How a Recommendation Engine Can Boost Sales in B2B Manufacturing
Increasingly, we see the adoption of advanced technologies such as AI and Machine Learning to boost sales. There's talk of leveraging customer data, aligning ecommerce offerings to buyer profiles, optimising website traffic. But what can a business in the B2B manufacturing industry actually do to boost sales?
By setting up and running a recommendation engine. And that's what we'll take you through in this article.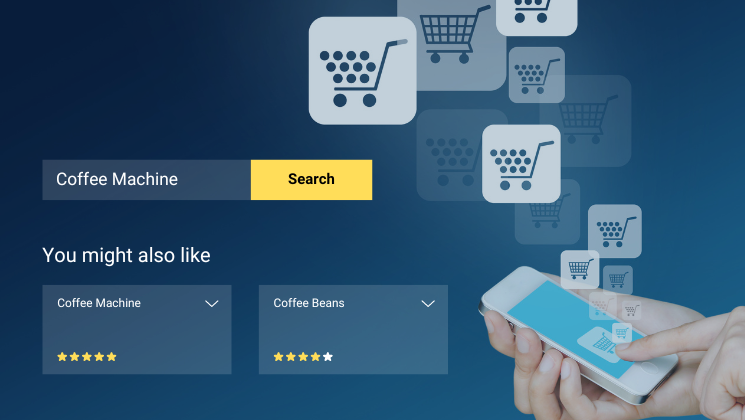 At the heart of almost every ecommerce giant today is a robust and highly adaptable recommendation engine. Amazon is a pioneer in using a recommendation engine to boost sales. If you have ever shopped from Amazon, you can see their recommendation engine in action right when you begin searching for something...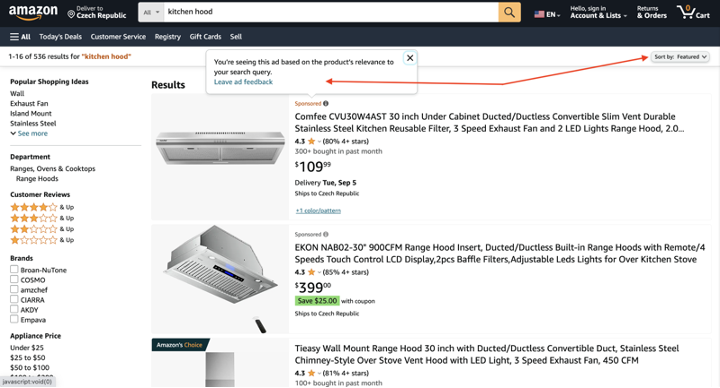 ...when you have found something, you want to buy...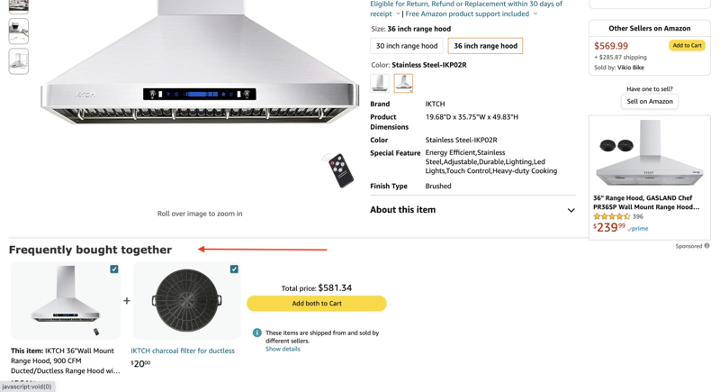 ...and even when you're about to pay for the product you've selected.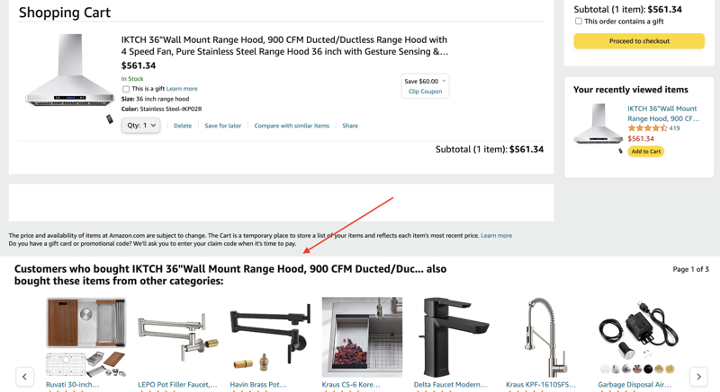 It's not just Amazon. Customers want to be recommended products or services to buy. Product recommendations account for up to 31% of ecommerce revenues.
B2B clients are no different from individual consumers; they appreciate personalized experiences.
Think of it as the polite yet efficient sales assistant at a busy retail outlet who seems to know exactly what you're looking for.
What is a recommendation engine?
A recommendation engine uses various kinds of customer data to offer them a personalised retail experience online. This data can include purchase history, browsing data, reviews, and feedback data. A recommendation engine has algorithms that process this data to show a selection of products aligned with a customer's wants.
When done right, a recommendation engine can boost sales. Relevant personalisation saves the customer from online shopping fatigue. This is particularly important, given that research has found and allows them to make more purchases that still feel relevant.
What Sets It Apart from Personalization?
Let's draw a line in the sand here. Personalization is when you, as a business, cater to a customer's known preferences.
For instance, Mark, your loyal customer, always buys power tools and gardening equipment from your website. So, when Mark visits your website, you roll out the red carpet, greet him by name, and show him the products he usually buys. That's personalization in action.
Now, a recommendation engine takes things up a notch. It shows Mark products he's never bought from you before but is likely to want. It might recommend accessories like safety gear, toolboxes, or new gardening gadgets. Mark is surprised but happy with the relevance of your product suggestions and decides to give them a try.
A well-implemented recommendation engine can analyse a client's purchase history, preferences, and industry trends to suggest products or services tailored to their needs. This personal touch can significantly enhance customer satisfaction and loyalty.
Personalized Experiences for B2B Clients
So how does a recommendation engine offer personalised product suggestions?
The heart of any recommendation engine is data.
Recommendation engines use one of three approaches to analyse data and make predictions.
Collaborative Filtering.
A recommendation engine can make predictions based on what customers with similar purchase profiles tend to buy. The algorithm clusters customers into groups based on their preferences, search history, and buying habits. Then, the algorithm generates similar product recommendations for all customers belonging to the same group.
This is an example of how a recommendation engine uses collaborative filtering:
Content-based Filtering
Using this approach, a recommendation engine maps customer data to product data to come up with personalised product recommendations.

Focusing on the individual buyer, the algorithm analyses their likes and preferences (which can be gathered by requests to upvote or downvote products/product features). This information is collected over time and analysed in sync with product data. Product data includes aspects like the name, description, and relevant keywords.
This is an example of how SIKO, a Czech family-owned supplier of bathroom & kitchen fixtures and fittings, uses content-based filtering: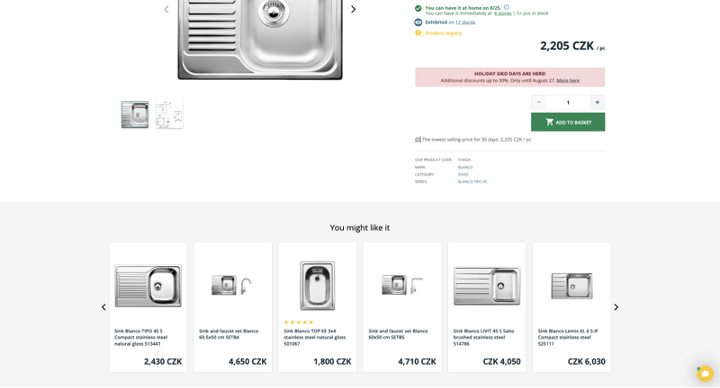 Hybrid Filtering
Most major ecommerce giants use a combination of collaborative and content-based filtering. Netflix has invested heavily in recommendation research. Its recommendation engine is a great example of hybrid filtering. It uses data on a user's viewing habits (content-based filtering) and the viewing habits of similar users (collaborative filtering) to offer suggestions.
Here's how Netflix has embedded recommendations at the heart of its CX design: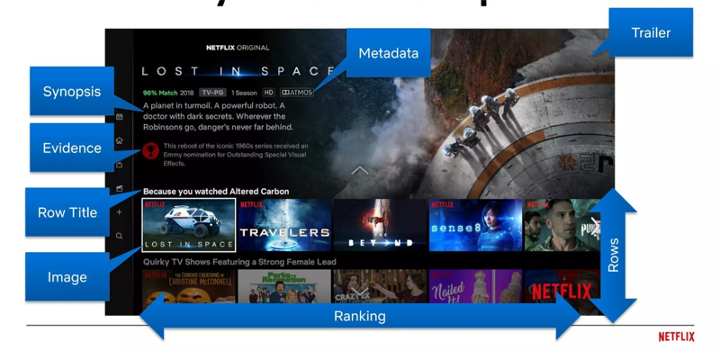 It's no wonder that 80% of Netflix's customer engagement has been attributed to the success of its recommendation engine.
The Impact on Sales
So, how does a recommendation engine translate into increased sales?
For any manufacturer, the clock starts ticking the moment a customer lands on your ecommerce page. How do you get them to stay? How do you get them to go through with a purchase? Is there a way to upsell or cross-sell products?
This is where a recommendation engine comes in handy.
Getting Customers to Stay and Purchase
Many ecommerce websites will display related products, but how relevant are they? A good recommendation engine will display related products that are highly relevant, which boosts average order values.
Personalised Offers
A recommendation engine doesn't just filter and display related products. It also helps your business create personalised offers. These can be displayed on the page or emailed to customers as a promotion.
Imagine a first-time customer browses through curtains on your website, but eventually doesn't make a purchase. Later that day, she gets an email with a special discount on home linen and interior décor. She is quite likely to go through with the purchase now.
Increased Qualified Traffic
Drawing on the benefit above, your ecommerce website is now receiving more qualified traffic. This is because more customers are coming via personalised offers, making it likely that they will stay longer with you.
Decreased bounce and cart abandonment rate
This is a big challenge for ecommerce companies, especially regarding first-time customers. A good recommendation engine draws on market trends, user profile data, and demographic details (for example, is there a festival coming up?) to offer highly relevant product suggestions to a first-time customer.
These recommendations are strategically located at different stages of the customer's engagement with your website. This enables customers to overcome online shopping fatigue and go through with a purchase.
Product recommendation tips you can implement right now
Every business is different, but there are a few best practices you can implement right away.
Leverage a shopper's browsing history to make relevant suggestions.
Make it personal by adding their name, like "Here's a selection of products you might like, Mark."


Increase Cross-Selling Opportunities.
When a customer is about to check out, suggest products that are "Frequently Bought Together." Watch your average order value soar.


Showcase a section with "Similar Products".
This lets new and returning customers explore your full product range.


Customize email campaigns.
Use a customer's purchase history data to tailor the email campaigns your marketing team sends out.


Boost conversion rates with social proof.
Add sections like "Best-selling products in this category," "80% of Customers bought these products," and "Highly-rated products near you." And don't forget to let customers have their say by upvoting or downvoting reviews and specific product features.
Setting Up Your Recommendation Engine
It's important to ensure that your recommendation engine is highly configurable. This is because, like any other Machine Learning or AI tool, a recommendation engine can also make mistakes. What's important is that you build a system that constantly learns from its mistakes.
Speaking of mistakes, safeguard your customer data. Data privacy and bias-free algorithms are non-negotiable.
That said, a recommendation engine is not designed to replace human interaction. The goal is to enhance your customer's engagement with your website and ultimately build their loyalty to your brand.
This is especially important if you have both an online and brick-and-mortar model. A recommendation engine can personalise your customer's experience online, whereas the human touch would be key to their experience in your retail outlets.
Does this mean a recommendation engine is only relevant for an ecommerce business? Not at all.
At ACTUM Digital, we have helped companies with a variety of business models and verticals to set up a recommendation system that works for them.
By harnessing the power of AI and Machine Learning, these engines create personalised experiences that not only captivate customers but also lead to increased loyalty and growth. So, seize this opportunity, and let the right recommendation engine elevate your business to unprecedented heights.
You may also like...
[07/06/2023] Improving Efficiency and Productivity in B2B Ecommerce  
Having a dedicated B2B ecommerce platform is a must, but how can you maximize its potential? Explore strategies & tech solutions for streamlined operations and enhanced efficiency in B2B ecommerce.
Read the Insight
[18/05/2023] Why Does B2B eCommerce Need to Go Beyond Amazon
Digital commerce evolves B2B eCommerce, demanding Amazon-like experiences. But replicating Amazon isn't enough; B2B must go the extra mile.
Read the Insight
[12/05/2023] How to Choose the Right B2B Ecommerce Platform: Manufacturer's Guide
Streamline the search for your manufacturing company's B2B ecommerce platform with this guide. Learn the step-by-step process to find your perfect fit.
Read the Insight