Improving efficiency and productivity in B2B ecommerce 
Having a dedicated B2B ecommerce platform is a must for businesses looking to thrive in the online marketplace. But how can business maximize its potential? One way is to leverage features like catalog management, pricing levels & order management to ensure smooth operations. However, to stay competitive they must go further and create an ecosystem around the platform. This involves integrating back-office systems and utilizing technology for content management. In this article, we dive into strategies and tech solutions for streamlined operations and enhanced efficiency in B2B ecommerce.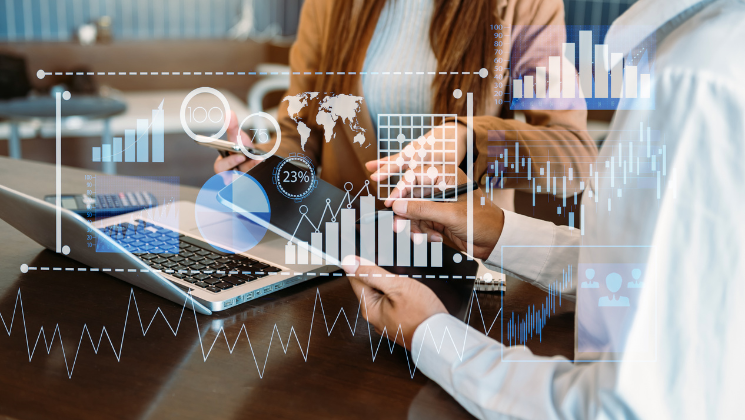 Streamlining Operations through System Integration
To fully optimize operations, B2B companies with existing ecommerce solutions should focus on upscaling their platform and creating a unified ecosystem. This can be achieved by integrating an ecommerce platform with other back-office systems. Such integration examples include:
PIM for superior product data quality.
Headless CMS for seamless content creation and distribution.
CRM system for efficient client data tracking.
Together these integrated tools can improve user experience and streamline the purchase journey. However, integrating these platforms with existing B2B processes requires time and specific knowledge. Only a handful of top digital agencies have dedicated teams to facilitate effective integration, enabling businesses to automate data treatment and achieve a synchronized flow of information between systems.
Enhancing Product Content Management for Digital Shelving
Customer expectations about the content are skyrocketing, as they bring their personal B2C ecommerce experience into their professional B2B activities.
The findability of your product and a strong UX on your website is crucial to conversion as it determines about 95% of your visitors' first impression. The purchasers expect high-quality images, detailed descriptions, and additional content like FAQs when browsing the website.
When buyers expectations are so high, businesses are overwhelmed with managing vast product catalogs and updating the product information to ensure that customers have all they need to complete the purchase. To simplify digital shelving and centralize product information, businesses need efficient solutions for product content management.
Enter Product Information Management (PIM) system – a master data management system for the product domain. When integrated with an ecommerce platform and ERP it can boost competitiveness and streamline a complete range of workflows. These might include:
Creating materials and product information even before using them in ERP.
Updating product information in real-time.
Ensuring consistency across various sales channels.
Exporting product information to ecommerce platforms and other media with ease.
With simplified digital shelving, B2B companies can present accurate and compelling product information, driving customer engagement and improving operational efficiency.
The Power of Single View of the Customer and B2B Data Analysis:
For B2B businesses having The Single Customer View (SCV) is like having answers to all the questions about their customers. By integrating customer data from various systems, such as CRM and sales databases, businesses can gain a comprehensive understanding of their clients and deliver personalized communication. According to Forbes, 80% of companies report seeing an uplift after implementing personalization in their strategy.
Yet, challenges arise while implementing SCV for B2B companies. Overlapping data across systems complicates narrowing it down. Moreover, B2B sales communication involves multiple stakeholders, representing the company at various touchpoints. It's important to identify several personas within a company you will communicate with and tailor a different message for each of them.
Data collection and data analysis play a pivotal role in creating a successful Single Customer View. B2B companies must evaluate the structure of their data, the way it is collected, and identify areas for improvement & optimizing operations. This alignment will enable the generation of data reports and analytics, facilitating more informed decision-making.
Leveraging Data Optimization for Greater Efficiency
Data optimization is a process that ensures the accuracy, consistency, and reliability of data. By collecting, structuring, and analyzing data, businesses can enhance operational efficiency and save valuable resources. Optimized data enables businesses to build data lineage, make accurate forecasts, identify trends, and uncover actionable insights. Data analytics tools and techniques further aid in extracting meaningful information from vast datasets. B2B companies can leverage these insights to streamline processes, enhance supply chain management, and improve overall efficiency.
Key Takeaways
Integrating back-office systems, leveraging technology for product content management, and harnessing the power of data — this is how businesses gain a competitive edge. The path to success lies in adopting the best tech solutions, like B2B ecommerce and PIM platforms. Moreover, recognizing the value of a SCV and investing in data optimization strategies uncovers actionable insights. Embrace these strategies and solutions to unlock efficiency, productivity, and success in the world of ecommerce.
______________
Are you interested in upscaling your B2B ecommerce platform? Join us for a live 30-minute consultation and learn more about our recent BigCommerce and PIM solution implementation for a Swiss manufacturer of mobile and industrial filters. Your business' digital transformation starts here.
You may also like...
[18/05/2023] Why Does B2B eCommerce Need to Go Beyond Amazon
Digital commerce evolves B2B eCommerce, demanding Amazon-like experiences. But replicating Amazon isn't enough; B2B must go the extra mile.
Read the Insight
[16/05/2023] Ebook: 4 Steps to Perfect Online Product Marketing
Discover the crucial balance between cost-effective solutions & innovative technology for manufacturers. Explore the power of PIM and ecommerce to drive growth and generate substantial online revenue.
Download the Ebook
[12/05/2023] How to Choose the Right B2B Ecommerce Platform: Manufacturer's Guide
Streamline the search for your manufacturing company's B2B ecommerce platform with this guide. Learn the step-by-step process to find your perfect fit.
Read the Insight