Cost Drivers for B2B Web Solutions
What is the price range for a new CMS solution? What are the topics to watch if the budget is limited?
These and similar questions arise during the preparation of CMS replacement/implementation projects. Let's start by taking a step back. I will consider CMS solutions for B2B companies in the SME/small enterprise market segment as the problem domain. To ensure the examples are comparable, I've picked two projects on Kentico Xperience, one of the major platforms we use for CMS projects.
In this article, I will analyse these projects, examining their cost structures and the main factors contributing to the final price.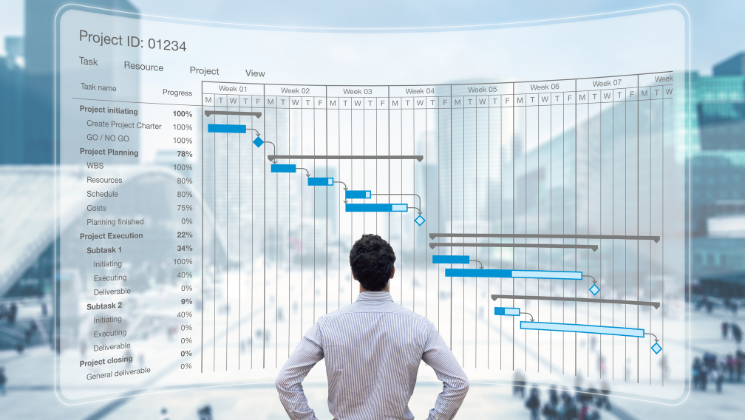 B2B project specifics
When contemplating a website, whether it's for a local pizzeria on the corner or a giant corporation like Amazon, the requirements and the cost structure would differ significantly. So, since I've chosen to focus on small to medium-sized businesses, let's start by looking at that specific area.
What are the characteristics of such CMS projects?
Focus on UX/UI
While smaller companies might decide to build a website using existing components, companies from our domain put a high emphasis on the user experience and want to make sure that the look and feel are tailor-made and aligned with their corporate branding.
Integrations
Companies from this segment prioritize seamless integration with their CRM and often extend this to e-commerce, PIM, BI tools, or ERP systems. The objective is to ensure their website functions cohesively with essential business systems.
Marketing tools and platforms
The purpose of the website is not only to be seen but to convert visitors into contacts and potential clients. This can be achieved either by combining a CMS solution with a marketing platform or by choosing a CMS solution that provides the necessary marketing features.
CMS project activities
The diagram below shows the activity structure of a typical Content Management System (CMS) project, along with the expected distribution of the total implementation effort. The primary focus is usually centred around the graphical design and integration tasks.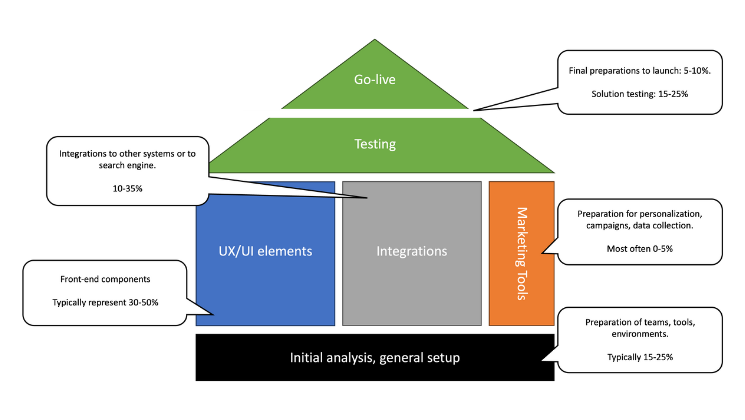 Within this breakdown, you can see that a significant 15-25% of the effort is spent on general setup and initial analysis of existing data and structure. Unfortunately, many companies underestimate this phase, rushing through it to save on costs. But this foundational step is paramount.
It ensures the new system is designed optimally, using relevant content, and avoiding future compatibility issues. Bypassing this step can lead to migration errors, functionality issues, or SEO challenges.
Simply put, skimping on this analysis may jeopardize the efficiency and scalability of the CMS.
Interestingly, the effort allocation for marketing tools implementation is usually very low. This is intentional because we consider the first production release and marketing tools frequently do not make the cut for the Minimum Viable Product (MVP).
However, leaving them out entirely might not be a good idea, as it could lead to missing data in later project stages.
The next chart shows the significance of these activities on two selected projects.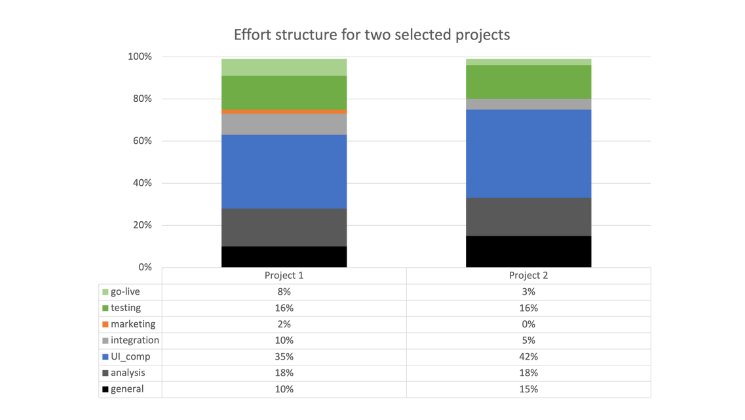 Project 1 is a solution for a Czech trading company. The solution is very simple – consists of 12 widgets in total – and assumes reuse with another site for the same company. It includes integrations to three systems with almost no business or orchestration logic. The motivation was a replacement of the current CMS solution and enablement for online marketing campaigns.
Project 2 is a large CMS solution for a Swiss pharma company. It contains 40+ UI components. It is only integrated with a CRM system. The aim of the project was re-platforming from a CMS solution that was complex for content editors and high on license costs.
Common Ground:
UX/UI Effort: Both projects invest heavily here and have Azure cloud hosting. But Project 2, being a larger solution with UI40+ components, understandably demands a higher percentage of effort (42%).
Differences:
Integrations: Project 1, with its three system integrations, consumes 10% of the effort, while Project 2, integrated only with a CRM system, uses just 5%.


Marketing: Marketing efforts are noticeably absent in Project 2. This is attributed to its re-platforming focus, whereas Project 1's intent to enable online marketing campaigns pushes its marketing effort to 2%.
The comparison of the two projects above highlights the need to adjust efforts according to a project's goals and industry needs. For successful CMS projects, organizations should adapt to the unique challenges and opportunities presented by each project.
Other costs contributors
Until here, the article considers the core parts of the solution and their contribution to the total implementation effort. Looking at the total costs of the solution, there are other categories one should think of.
Data migration – For large websites, this might require weeks to months of work.
Shelfware – Consulting companies state that 20-30% of software features can be classified as shelfware, i.e., features that are (almost) never used. Starting with an MVP and a constant discussion of priorities is a proven approach to addressing this risk.
Licence costs (one solution vs. eco-system) – License costs can contribute a lot to the TCO. Some companies prefer open-source solutions, but then they should consider the whole eco-system in the calculation. What is the point of saving licence costs on CMS when you have to purchase other solutions for campaigns or contact management?
Where to start from
So, what are the recommendations if you are about to start such a project?
Start from the end

How do you tell a successful project?
What are the features that are critical for you?
Which features can you omit (not to pay license costs for things that you don't use)?
What does your application context of the CMS solution look like?
Select the

right platform



Does the platform support efficient development or UI components?
Is the platform ready for the integrations?
Which features will have to be provided by other applications (marketing, data displayed on the web)?
Do the license costs fit into your expectations on TCO?
Does the platform support your preferences on hosting (SaaS, Cloud, …)?
Select the right vendor

Does the vendor have a library of UI components to start with?
Does the vendor have proven records with similar integrations?
Does the vendor's delivery approach comply with your standards?
Is the vendor ready to operate the solution in production, once launched?
Is the vendor able to guide the right use of marketing features?
Keep attention while the project is running

Regardless of how much preparation has been done upfront, many decisions are made during the project.
Work closely with the vendor and be strict about priorities.
By following these steps, you can ensure that your CMS project remains cost-effective and delivers value. In the next article, we'll explore the complex issue of project delivery estimates during the presale phase and how they impact project success.
Author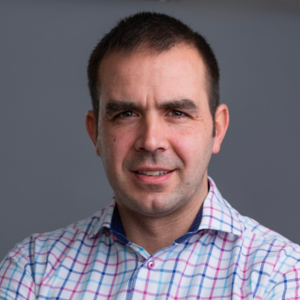 Adam Böhm
You may also like...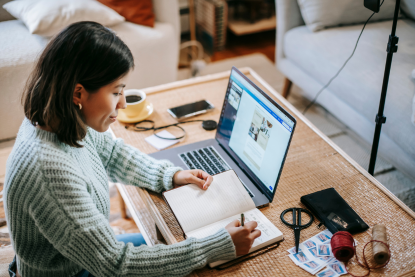 [10/10/2023] Selecting the Ideal Enterprise CMS: Key Considerations
Enterprise Content Management Systems (CMS) are indispensable for businesses. This guide delves into the critical factors for selecting an enterprise-level CMS that aligns with your business goals.

Read the Insight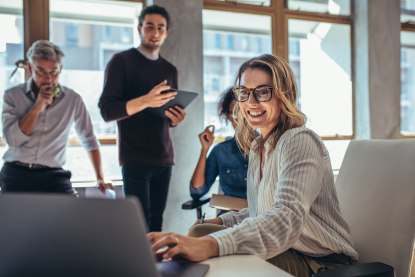 [29/09/2023] Leverage Technology to Enhance Content Operations
Learn how cutting-edge technology can supercharge your content operations. Dive into AI-driven content creation, the magic of headless CMS, and expert insights to elevate your B2B content game.

Read the Insight
[27/03/2023] CMS: Skip comparing features and create user scenarios instead
Choose a CMS based on how well it meets the tasks and requirements of your most relevant user scenarios...
Read the Insight