CMS: skip comparing features and create user scenarios instead  
The role of content management systems is becoming increasingly important. How do you choose the best one for your business? The seemingly most logical way is to compare the number of features that each CMS contains. Well, yes, but what if most CMS systems contain the same features? Then you need to find out how well they work and what they allow you to do. We'll show you how to go about it.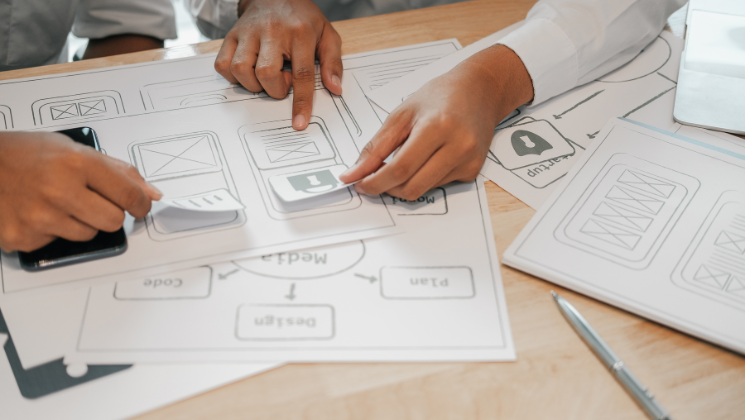 The Importance of Choosing the Right CMS
As someone who works with content management every day, you understand the importance of selecting the right platform. Your success depends on it. The CMS you choose will determine how much time and energy you will need to devote to daily tasks, how stressful your day will be, and how much credit you will get from your colleagues. Therefore, it is essential to choose wisely.

Anyone considering getting a CMS will soon find that without previous experience in choosing one, they have little chance of making an informed judgment as to which one will be more suitable for their purposes. Just examining the details of hundreds of features is beyond the time capacity of most people. What's more, you may not be able to identify exactly which features you need and which you don't, or what criteria to use to evaluate their usefulness for your company's needs.
Understanding User Scenarios and Why They Matter in CMS Selection
So, while it may be tempting to simply compare feature lists for different CMS systems and then choose the system that seemingly contains everything you need, we recommend trying a method that is guaranteed to make a better decision.

Choose a CMS based on how well it meets the tasks and requirements of your most relevant user scenarios. This way, you will know if the tool will really give you the results you need. Whether your business requires sophisticated use of a CMS, or you are a manufacturing company working with content in just a very basic way, remember that user scenarios must consider the needs of internal users as well as external ones. The quality of the customer experience is largely dependent on how well your employees work with the CMS.

The secret of success lies in the way you use the features to solve a specific situation or problem of your customers, i.e., in their use in your specific user scenarios.

User scenarios are essentially concise little snapshots of certain parts of your customers' experience. They not only provide insight into the specific situation your customers are in and the problem they need to solve, but they also add useful context. You can, of course, prepare more scenarios – and discuss them with real users. This will ensure that your decision on a CMS vendor is based on real costs and benefits, rather than just list price and your overall feeling about the offer.
Example of a User Scenario
By creating user scenarios, you can see how a CMS works in real-world situations and whether it meets your needs. Here is an example:

A customer wants to buy a product on your website. They should be able to find the product easily, see clear photos and descriptions, and have a smooth checkout process. If your CMS is difficult to navigate or doesn't have good e-commerce features, you may lose sales.

This is just an example of how a user scenario can help businesses evaluate CMS options. By creating more scenarios and discussing them with real users, you can get a better sense of how a CMS will work for your business.
How to use user scenarios to evaluate CMS options
Let's say you are part of a marketing team that wants to collaborate on creating and publishing content for your company's website. You can use a user scenario to evaluate different CMS options based on collaboration and workflow management features, access control and permissions, versioning and rollback capabilities, and integration with other marketing tools.

By creating a hypothetical situation where you need to create and publish a new landing page, you can test how easy it is to assign tasks to team members, track progress, review and approve content, and publish the page. You can also evaluate how easy it is to integrate the CMS with other marketing tools like email marketing software, social media management platforms, or CRM (Customer Relationship Management) systems.

What if you are an e-commerce site that wants to manage your product listings and orders? You can use a user scenario to evaluate different CMS options based on product management features, payment and shipping integration, order tracking and fulfillment, inventory management, and SEO optimization.

By creating a hypothetical situation where a customer places an order on your website, you can test how easy it is to manage the product catalogue, set up payment gateways and shipping options, track orders, and manage inventory. You can also evaluate how well the CMS supports SEO optimization for product listings, such as creating product descriptions, adding meta tags, and optimizing product images.
How to get the most out of user scenarios?
Think about your CMS in the context of internal users' performance, your company's financial and technological constraints – and most importantly, your customers' satisfaction. Their satisfaction is a prerequisite for the business benefit of the whole thing. Most of them will not only come back to you repeatedly, but they will also spend more if you are able to provide them with a seamless, personalized customer experience.

To make this happen, we suggest you create several user scenarios, at least five. Discuss them with real (internal and external) users, because that's the only way to get valuable feedback. With that in hand, you can then approach the digital agency and CMS vendor and get them to deliver answers to your specific questions. The result will be happier users.
You may also like...
[29/03/2023] We read for you: Our Top Article Picks on CMS
We have carefully curated a list of articles that covers everything you need to know about CMS and the latest updates...
Read the Insight
[28/03/2023] How to Create a Step-by-step User Scenario 
The most effective way to gain insight into your customers' wants, goals and motivations is through user scenarios. Find out how you can create them.
Read the Insight