Lotus Notes apps VS Microsoft Power Platform & Dataverse  
For many years, Lotus Notes was a popular platform for building custom business applications. As technology evolves, more businesses are moving away from Lotus Notes in favor of other alternatives that are more flexible, scalable, and user-friendly.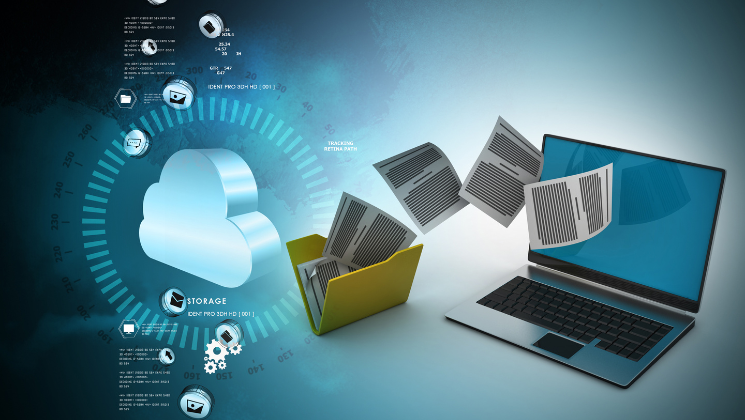 Why do Businesses migrate from Lotus Notes?
There are several risks associated with using Lotus Notes as a platform for business applications. Lotus Notes is an aging platform with limited modern security features, making it vulnerable to data breaches and malware attacks.
Moreover, maintaining Lotus Notes can be expensive, which can be a burden for businesses, and requires highly skilled professionals. In addition, Lotus Notes lacks many modern features such as mobile support, advanced analytics, as well as integration possibilities and can be challenging for employees to use.
It is essential for businesses to evaluate the risks and limitations associated with Lotus Notes and consider whether a more modern platform may be a better fit for their organization. By migrating from Lotus Notes to a more modern platform, businesses can benefit from:
Enhanced security
Better features and integrations
Improved ease of use
One potential solution for businesses that are still using legacy Lotus Notes apps and want to modernize them is to migrate to the Microsoft Power Platform and Dataverse. This platform provides a comprehensive set of tools and services that can help businesses transform their legacy applications into modern, cloud-based solutions that are more secure, scalable, and user-friendly.
Lotus Notes vs. Microsoft Power Platform
Lotus Notes and Microsoft Power Platform are two different platforms for building custom business applications.
One key difference between the two platforms is that Microsoft Power Platform is a cloud-based platform, while Lotus Notes is typically deployed on-premises. The Power Platform also offers modern security features, better integration with other Microsoft products, and more flexibility in terms of customization and scalability. The following graphic shows a better comparison: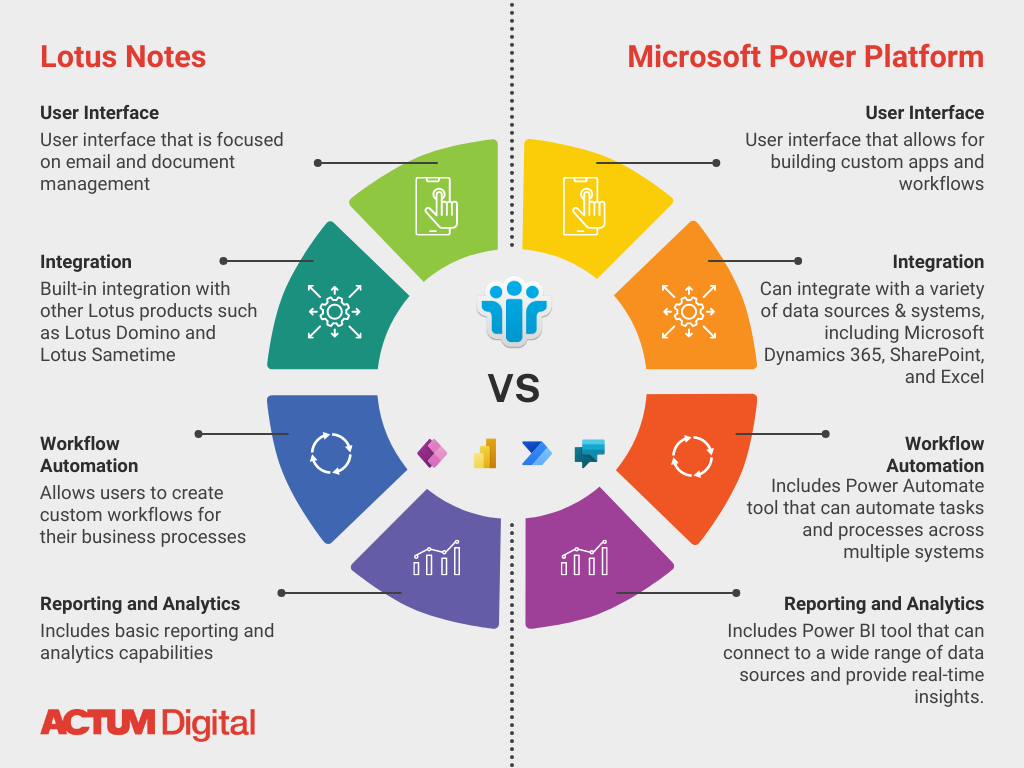 The Microsoft Power Platform is a low-code development platform that enables businesses to create custom apps and workflows quickly and easily. Dataverse is the database behind the Power Platform that provides a secure and scalable data storage solution.
By migrating your Lotus Notes apps to the Power Platform and Dataverse, you can benefit from a range of advantages. Among others:
Improve the user experience: The Power Platform provides a modern, user-friendly, accessible and mobile-ready interface that makes it easier for your employees to use the apps.
Increase productivity: The Power Platform enables you to automate workflows and streamline business processes, which can help you save time and reduce errors.
Reduce IT costs: The Power Platform is an integrated rapid-development platform that allows you to quickly build custom apps and consolidate them on a single foundation.
How to migrate Lotus Notes to Microsoft Power Platform and Dataverse
Here are 5 steps you can take to migrate your Lotus Notes apps to the Power Platform and Dataverse:
Identify the apps to migrate.
Start by identifying the Lotus Notes apps that you want to migrate. Analyse each app and determine its business value, usage, and complexity. Prioritize the apps based on their importance to your business and the ease of migration.


Map the data.
Once you have identified the apps to migrate, map the data elements in each app to the corresponding entities in Dataverse. This will help you understand the data structure and ensure that the data is accurately migrated.


Rebuild the apps.
Use the Power Platform to rebuild each Lotus Notes app. The Power Platform provides a suite of tools and services that allow you to build custom apps quickly and deliver value to businesses fast. You can create forms, workflows, and reports using the native tooling, and add custom logic using Power Automate, extending with Azure, if needed.


Migrate the data.
After you have rebuilt the apps, migrate the data from Lotus Notes to Dataverse. You can use a variety of methods to migrate the data, such as exporting to a CSV file and importing it into Dataverse or using a third-party migration tool.


Test and deploy the apps.
Once the data is migrated, test each app thoroughly to ensure that it works as expected. You can use the Power Apps checker to identify any issues or potential problems. After you have tested the apps, deploy them to your users.
If your organization is still using legacy Lotus Notes apps, it is time to consider migrating them to the Microsoft Power Platform. This will enable you to modernize your apps, improve your productivity, and reduce your IT costs. With the support of the right experts and resources, migrating from Lotus Notes can be a smooth and rewarding process. Schedule a call with us to evaluate the current state of your migration process and ensure the migration without any data loss.
You may also like...
[12/05/2023] How Business Applications Can Save You Time
Have you ever thought about how much time you or your teams spend on repetitive administrative tasks over the course of a working day, a week, a month?
Read the Insight
[28/11/2022] Is Azure cloud cheaper than on premise?
Azure is Microsoft's cloud computing platform that can provide businesses access to almost any technical service...
Read the Insight
[25/08/2021] Professional vs. Citizen Development
If you are searching for the right way, how to adopt Low-code, No-code development using Microsoft Power Platform, there are two principal ways: Professional Development and Citizen Development...
Read the Insight