Boost Product Page Conversion Rate through Marketing Automation
What's the lowest-hanging fruit in ecommerce? You are right; it's your online conversion funnel. Pumping visitors into your website might be a waste of money when your website and especially product pages are full of thorns and potholes. We will show you how to use marketing automation tools to boost product page conversion through the roof.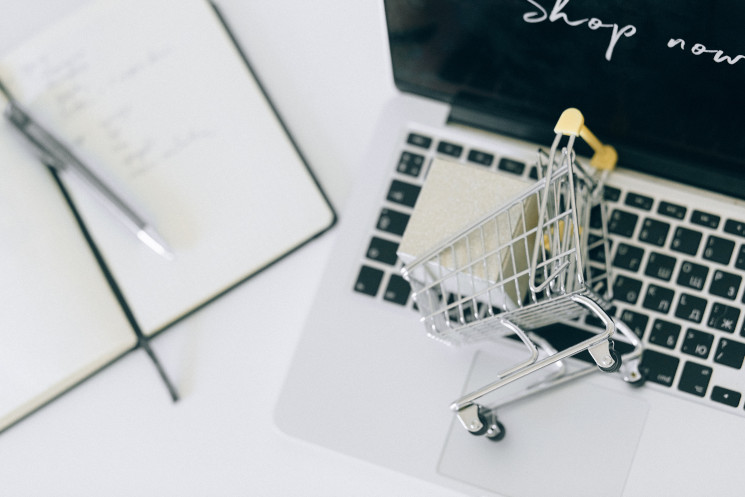 B2B or B2C Ecommerce? That is the Question
Many automation tools can improve your marketing performance without significant investments. Most websites are hiding traps that jeopardize their conversion rate. How can one know? It manifests in low customer retention and limited revenue growth.
"To stay competitive, companies must turn conversion rate optimization into their routine. Both B2C and B2B companies can leverage the better understanding of their target audience and increase the effectiveness of converting visitors into loyal returning customers," explains Lucie Prochazkova, product owner in the ecommerce industry at ACTUM Digital.
What is CRO?
Conversion Rate Optimization (CRO) is the tech-fueled strategy empowering companies to convert website visitors into loyal customers by refining the user experience and leveraging behavioral analytics. This iterative approach involves continuous A/B testing and fine-tuning web components, ultimately maximizing conversion rates.
Where can result using data-driven insights to identify friction points, optimize user flows, and enhance customer trust? You may soon observe revenue growth and strong brand loyalty.
Before we give you some practical tips and insights to take your conversion rates to the next level, let's check how your ecommerce stands now.
Market Conversion Rates for Benchmark
The optimal conversion rate value can vary based on many factors. Industry, product type, region, target audience; the list goes on and on. As a rule of thumb, we often demonstrate market benchmarks on the results of global studies focusing on measuring conversion rates for the most common marketing funnel.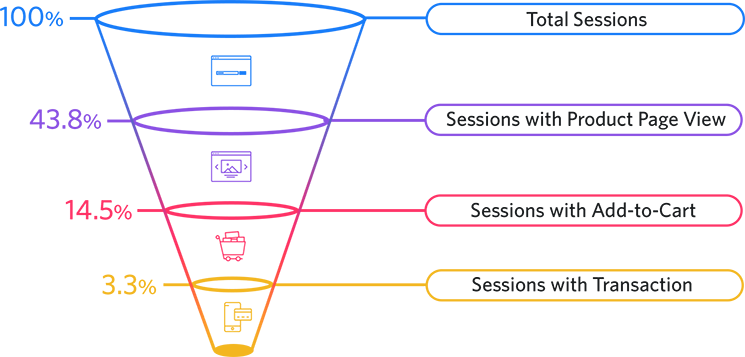 The final number of conversions might vary significantly, so for some markets, 1% is a great result, but in other countries, great would be anything close to 3%. Impact on your conversion rate can have seasons as well as devices or sources of your website traffic. Do not take these numbers too strictly and follow patterns in time and proportionality.
Have you found close to the benchmark values? If not, don't worry. Let's start our hunt for increasing the conversion rate!
Here are some CRO tips and tricks from our experts.
Start with the Most Important Pages
Continual analysis and optimization of key pages are crucial for boosting performance and driving conversions. Ecommerce businesses can enhance online performance by honing the most frequently visited and converting pages.
There are three areas where you can invest your CRO effort:
Homepage
The homepage is typically the first point of contact with visitors landing on your website. Make sure to showcase your brand's unique propositions and make it easy for visitors to navigate your website toward conversion. Landing pages focusing on specific use cases might play a similar role for B2B-oriented businesses.


Product Pages
Product pages contain detailed information about your product or service, including descriptions, images, specifications and customer reviews. Ensure that your product pages allow a seamless user experience and naturally lead to cart and checkout.


Cart and Checkout Pages
Cart and checkout page optimization reduces cart abandonment rates which naturally protects your conversion rates. Designed to be clear, mobile-ready and, if possible, one page.
We will focus only on product pages in this article. Why? The average add-to-cart conversion rate reaches 7.1% according to a study of Dynamic Yield, but it can get even up to 14% as we showed you in the funnel above. Not to mention that most ecommerce businesses have already polished their homepages and checkout pages.
Optimize your customers' journey to reach this rate, because it will have a positive impact on your overall conversion rate and absolute numbers of orders.
10 Tips to Optimize Product Detail Page
Go for the lowest-hanging fruit and start with the optimization of Product Detail Pages (PDP). The lesson we learned from our clients is indisputable. We often find PDPs in a neglected state. If you are here for the most effective advice, focusing on this part is your best shot. Here are our ten tips:
Product Page Speed
You won't come near the instant loading without thoroughly minimizing scripts, optimizing images and using a content delivery network (CDN). The faster loading time will manifest in a reduced bounce rate.


Mobile Optimization
Mobile-first approach to web development is essential in modern ecommerce. Responsive designs make your PDPs load quickly, and intuitive UX will help your customers to sail through the purchase like a hot knife through butter.


High-Quality Product Images
High-quality images are essential for above-average PDPs. Show products from multiple angles and add a zoom hover-over feature to let visitors discover tiny details.


Video and Interactive Content
Increase the confidence of your customers in making the purchase and offer them professional visual content like 360-degree views and others.


User-Generated Content
More than studio-staged images of your products might be required. Spice your content up with user-generated images and clips from social networks.


Clear Product Titles and Descriptions
Make sure that your product descriptions are clear and concise. Simply put, tell customers what your products are and what they do.


Clear and Prominent Call-to-Actions (CTAs)
Too much creativity can harm your CRO effort. Write crystal clear CTAs and let them stand out on the page. Add-to-cart is a natural no.1, but don't forget to add other buttons like "add to wish list" or "share with friends."


Personalization
Modern ecommerce platforms benefit from upselling and cross-sell thanks to personalization. Display related products based on customers' browsing behavior and give personalized recommendations, so your customers won't forget what they came for.


Easy-to-Use Navigation
Make the navigation on PDPs easy and intuitive. Product information, price and add-to-cart buttons should be as easy-to-find as it gets.


Social Proof
Increase visitors' confidence in purchasing and show them what others think about your product. Add reviews, ratings, and testimonials—share the number of sold products or customers who have recently viewed them.


Chatbots
Be there for your customers 24/7. Give them the option to ask you about anything anytime. And with the latest generative AI tools, you can automatically train language models to chat with your customers.
CRO & Marketing Automation
Executing regular CRO might seem like too much work. And that's why you should always think about CRO and marketing automation tools together. Use technology to streamline repetitive tasks. Take a data-driven approach to conversion optimization. Unleash efficiency and scalability. With the right tech stack, many things can be automated–it applies not only to marketing but also to web application testing.
Marketing automation platforms can collect user data, analyze patterns, and provide actionable insights, empowering businesses to tweak and refine their strategies. In real-time! By automating email campaigns, lead nurturing, and customer segmentation, you can deliver personalized user experiences, ultimately elevating conversion rates and long-term customer loyalty.
Embrace marketing automation to supercharge your CRO endeavors and surge ahead in the digital landscape with no effort added.
How Marketing Automation Tools Can Help
There are many marketing automation tools for ecommerce websites that can help you with automating everyday processes and streamlining marketing workflows. Some versatile platforms harness machine learning and AI-powered algorithms to optimize user experience, delivering personalized content and product recommendations. By seamlessly integrating with CRO strategies, these tools drive conversion rates, streamline customer journeys, and propel business growth.
These are examples of tasks that marketing automation tools can automate for you:
Dynamic Content
Enrich your website with dynamic content. Display personalized content based on visitor behavior, preference, or other data to provide customers with better recommendations, perfectly related products, and promotional offers.


Abandoned Cart Emails
Improve the performance of your cart and automatically send out emails to remind visitors of incomplete purchases. Don't forget to add some sweet incentives to gain their attention.


Lead Nurturing
In the B2B world, where the customer journey can be much longer, marketing automation tools can nurture leads, moving them automatically through the sales funnel to a purchase.


A/B Testing
The holy grail of CRO. Use the power of A/B tests to determine which elements are driving conversions. Test different variations of page elements such as CTAs, images, and descriptions to achieve maximum conversion rates.


Post-Purchase Emails
Purchase is just the beginning. Automated post-purchase email campaigns encourage customers to provide reviews, refer friends, or purchase some of the related products.
Ecommerce Powered by Marketing Automation
The power of marketing automation tools for your CRO strategy can significantly leverage all your efforts. It's a game-changer in delivering a personalized experience and driving conversion rates. By harnessing the power of data and insights, ecommerce websites can continually optimize for maximum conversion rates, ultimately boosting ROI and staying ahead of their competition in the digital landscape.
Ready to skyrocket your CRO and marketing automation game? Sure, you are! If some help from professionals comes in handy, feel free to reach out to us at any moment.
You may also like...
[18/05/2023] Why Does B2B eCommerce Need to Go Beyond Amazon
Digital commerce evolves B2B eCommerce, demanding Amazon-like experiences. But replicating Amazon isn't enough; B2B must go the extra mile.
Read the Insight
[14/04/2023] ACTUM Digital and Dormer Pramet - SAP Quality Award 2022 Winners
Discover why SAP endorses ACTUM as the best solution for complex projects, and how we launched a B2B commerce site in just months, leveraging a robust platform for maximum advantage.
Read the Insight