Challenges Manufacturers Face in Managing Sales & Marketing Data
Manufacturers in various industries, such as medical devices, energy, and healthcare, face numerous challenges when managing sales and marketing data. Scattered B2B data and inefficiencies in the sales process can negatively impact business outcomes. In fact, 81% of marketers cite data management as a top obstacle to success. Addressing these challenges is crucial for improving bottom-line results and optimizing overall performance.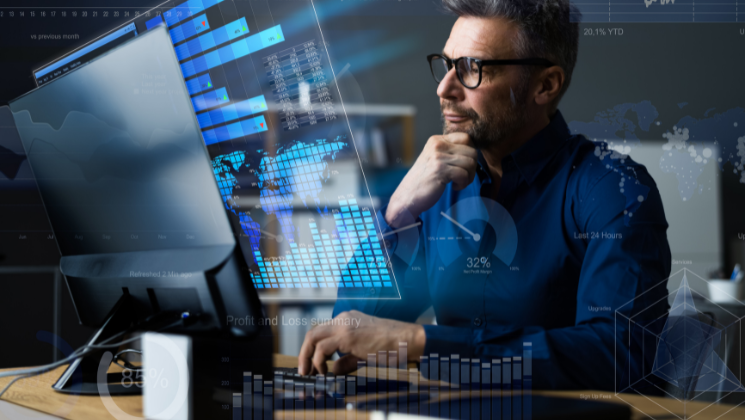 B2B Data from a Prism of Sales
So, what exactly is B2B data? B2B data is utilized by companies to power their marketing and sales strategies, with the goal of generating more business opportunities, enhancing lead generation, and improving market research. By analyzing this data, businesses can gain valuable insights into their target markets and stay ahead of their competitors, enabling them to make more informed decisions and drive growth.
Key Data Units manufacturers use
In the manufacturing industry, sales and marketing professionals deal with large volumes of data. They need to deal with this data for management reporting, dealing with customers/vendors, analyzing buyers' behavior, and running advertising campaigns. This data is complex, difficult to interpret at times, and needs to be collected and simplified for reporting & estimating purposes in desired templates. Here are 6 types of Data these teams are collecting: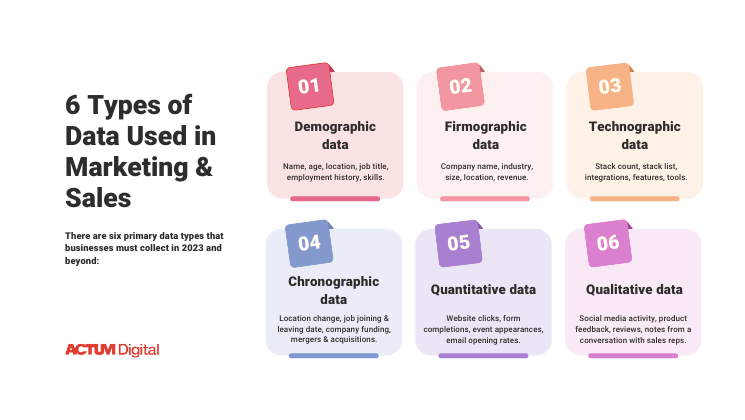 Benefits of B2B data for Sales and Marketing Teams
For sales and marketing teams, the benefits of B2B data are significant:
For Sales Teams
Specifically, sales teams can leverage B2B datasets to:
Enhance their search of potential clients by segmenting them into various categories and investigating them based on specific criteria.
Gain valuable information about product sentiment directly from customers, enabling them to consider feedback and make necessary product adjustments.
Ask tailored questions that address prospects' specific needs or pain points.
Better understand their client's needs and prepare effective sales pitches.
Identify decision-makers and companies that fit their ideal customer profile, reaching out to them more efficiently.
Enrich existing datasets by adding relevant data, making it more actionable and accurate (provided the existing data is well-preserved and managed appropriately).
For Marketing Teams
When in marketing teams B2B data can be used to:
Develop an ideal customer profile (ICP) that can be applied to both sales and marketing campaigns.
Increase demand generation by using B2B data to identify content relevant to your audience.
Improve lead generation by using B2B data to focus on a selection of audiences that are more likely to be interested in your products or services.
Make data-driven decisions based on insights obtained from B2B data. By relying on figures, you can eliminate guesswork and make more informed decisions about your marketing strategy.
Gain a better understanding of your target audience. B2B data can help you develop a comprehensive understanding of your target market, including their interests, preferences, and pain points. This knowledge can be used to personalize your content and make it more relevant to your audience.
Challenges of managing sales and marketing data for manufacturers
Did you know that data extraction and its conversion to an appropriate format is a major time sink for these teams?

From our interactions with customers, we have observed that the main reason behind this is that data is often scattered across different systems and departments, or quite often, just saved on someone's local PC and not shared with others. As a result, sales teams may unwittingly duplicate efforts or, simply, lack access to the most up-to-date information. Similarly, marketing teams may face difficulties in tracking ad performance and ensuring all leads are enrolled in appropriate workflows due to data fragmentation. Consequently, businesses may experience lost sales or customer dissatisfaction, impacting their bottom line.

For example, in the medical devices industry, companies may struggle to effectively target customers, optimize pricing and promotions, and track and measure sales performance. Similarly, energy and legal sectors face challenges in managing their sales and marketing data, resulting in operational inefficiencies, and costing businesses up to $3 trillion (about $9,200 per person in the US) per year.

This issue is widespread among businesses, with many expressing a desire to automate but citing the challenge of locating data spread across multiple files as a major barrier. Research shows that 50% of sales time is wasted on unproductive prospecting due to insufficient data. If these problems can be solved for sales and marketing professionals, they can use their spare time to focus on boosting the sales & marketing processes rather than trying to gather the data in a presentable way.
Strategies to Overcome Sales and Marketing Data Management Challenges
There are several ways to overcome these challenges. Companies can invest in data management technology, automate sales processes, and consolidate data sources. Each solution has its benefits and drawbacks, but successful implementation can lead to significant improvements in efficiency and performance. Studies show that businesses with well-integrated data see up to a 50% increase in productivity.

For instance, a medical device manufacturer might implement a data management solution that centralizes all customer information, allowing sales representatives to access up-to-date details on pricing, promotions, and customer interactions. Similarly, an energy company could automate its sales process, reducing manual data entry and streamlining operations.

According to Nucleus Research, companies that invest in customer relationship management (CRM) technology see an average return on investment of $8.71 for every dollar spent.

5 Ways Data Management Technology Can Benefit Business
As you probably have noticed, traditional systems, equipment, or assets were not primarily designed to talk to each other. Implementing data management technology is the first step in covering a documentation and communication gap in the organization. Here is how data management technology can benefit your organization:
360-degree overview of your customer database
Data Management systems can provide high visibility on the ongoing sales and marketing processes. Teams can see each other's business pipelines with the incoming leads, inventory levels, communication with the clients, interaction history, as well as order statuses. This helps to create a more personalized approach to communication with the client and increase retention rates.
Detailed insights into your ICP (Ideal Customer Profile)
Effective data management technologies enable you to efficiently collect and consolidate incoming data from both your active and passive audiences. With all this valuable information stored in a specific location, the technology can then perform in-depth analyses of the patterns behind every successful interaction with your website or a converted lead. This provides critical insights into your audience, allowing you to update your ideal customer profile with the latest information and refine your targeting strategies.
Streamlined scheduling to delivery
Capturing accurate data at various stages of the shop floor, such as raw inventory, production capacity, and estimated delivery, enables streamlined planning, production, and sales alignment. Manufacturers can quickly assess the status of batches and fulfill customer requests within quoted lead times.
High Personalization
Having a complete set of data at their disposal, manufacturing companies can use AI (Artificial Intelligence) and machine learning technologies integrated with Data Management tools. If the manufacturing business has a wide product portfolio and complex sales process, ML can help sales and marketing teams with finding highly personalized products and offers for very segmented audiences. Interestingly, 83% of decision-makers who adopted AI early have already achieved substantial or moderate business outcomes.
Increased Margin
Data Management tools organize data collection, keep it up to date and available for all the departments in real-time, so that sales and marketing teams have more time to focus on their actual job – planning lead generation campaigns and calling potential customers, as well as looking for new markets and opportunities. That results in increased revenue and eliminates the biggest pain point of marketers and sales representatives.
Tool to Go: Salesforce
Salesforce is an industry-leading CRM platform that provides a centralized hub for all sales and marketing data, making it an ideal solution for manufacturers looking to streamline their operations. By consolidating data from disparate sources, Salesforce helps overcome the challenges of scattered data and inefficiencies in the sales process.

Specific features of Salesforce, such as integration with ERP (Enterprise Resource Planning) systems and the ability to track customer interactions across channels, are particularly valuable to manufacturers. By implementing Salesforce, businesses can streamline their operations and optimize their sales and marketing strategies. Salesforce users report a 44% increase in lead volume and a 37% increase in sales revenue.

On March 7th, Salesforce launched the world's first generative AI CRM technology - Einstein GPT, which delivers AI-created content across every business interaction at an unprecedented scale. With Einstein GPT, marketers and sales representatives can identify engaged leads, create personalized emails, workflows, landing pages, and lead generation forms by sending a simple request to the chatbot. OpenAI's technology in CRM will save time on manual tasks and allow teams to maximize their CRM platform.

Several manufacturers have successfully implemented solutions like Salesforce to centralize and streamline sales and marketing processes. For example, Stanley Healthcare, a medical device manufacturer, has implemented Salesforce to consolidate customer data and improve sales representatives' access to critical information. As a result, the company saw a 30% increase in sales efficiency and a 20% increase in customer satisfaction, leading to improved business outcomes.
Final Thoughts
In conclusion, companies in various industries, including manufacturing, energy, legal, and healthcare that prioritize effective data management practices can boost the productivity and ROI (Return on Investment) of their sales and marketing functions. However, the path to successful database management is riddled with challenges that can prevent companies from using data successfully. Addressing these challenges is crucial for improving business outcomes and fostering innovation and collaboration.

By implementing solutions like Salesforce and other data management strategies, businesses can overcome these challenges and optimize their sales and marketing operations. Reach out to us to learn more about CRM solutions and how they can benefit your organization.
You may also like...
[21/04/2023] Why Should Be Paying More Attention to CRM
Are you still managing your customer relationships with outdated methods, risking major miscommunications and loss of trust? Find out why implementing a CRM tool is a must.
Read the Insight
[15/03/2023] How to Build Deeper Customer Relationships with ChatGPT?
ChatGPT is undoubtedly the most discussed machine learning model of today...
Read the Insight
[23/01/2023] Why You Should Be Investing in Relationship Management
Relationship management, in essence, refers to how a business engages with its customers and other stakeholders...
Read the Insight