Supply Chain Management Consulting
Expert consulting by experienced teams.
We offer first class expertise in all areas of Supply Chain Management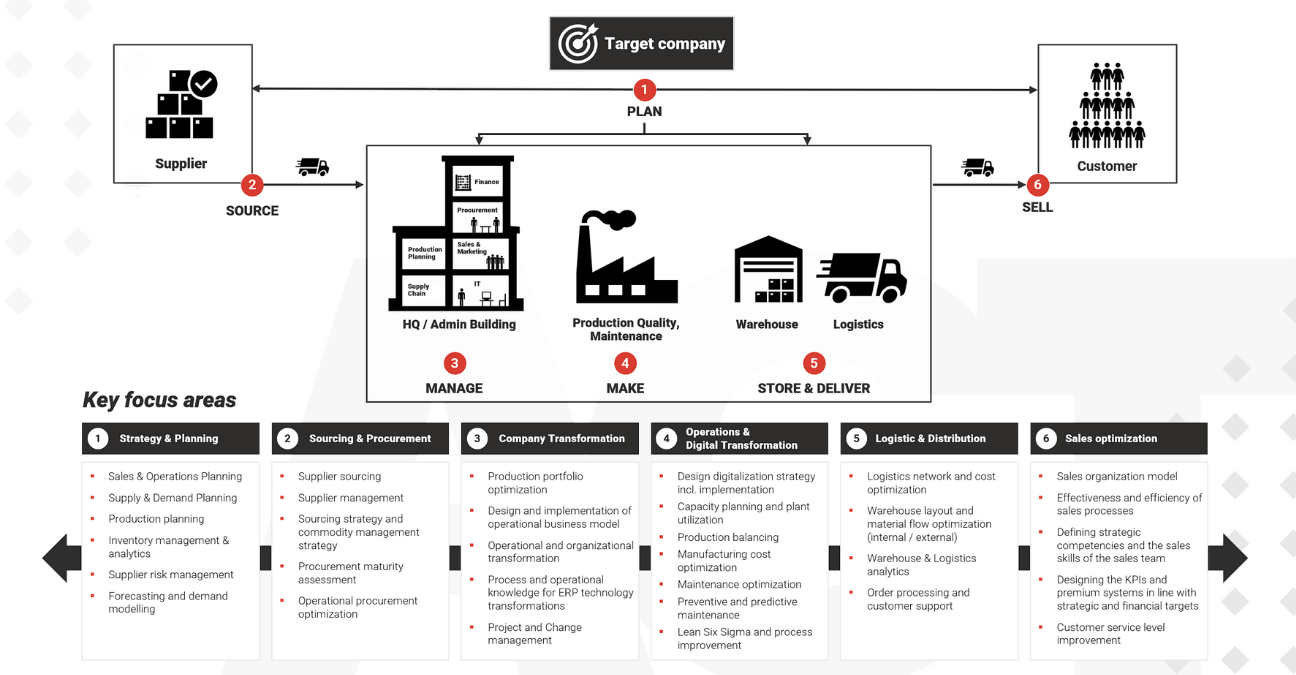 Featured Services
Supplier Risk Mitigation
Supervising suppliers and their performance on-site is vital for ensuring consistent deliveries. We supervise our clients' suppliers all over the world and as such, we are able to conduct detailed on-site assessment for vast majority of logistical and manufacturing industries in order to improve their performance.
Energy Management
We deliver an end-to-end digital solution for energy optimization, energy efficiency reduction and sustainability tailored to your business needs. We focus on combining existing digital software with consulting and data analytics to provide tailored solutions maximizing cost savings and utility.
S&OP Planning
S&OP integrates different business plans to one overall plan to balance demand and supply and to build bridges between strategic and operational plans. Our hands-on approach assesses each level of production, meaning we look as deeply into the organization as necessary to find the root causes of problems in production planning.
Target Operating Model
Leveraging the most out of your organization, processes, technologies and information is the key to maximizing efficiency, productivity and profits. We implement TOM framework to connect your business vision together with your operating capacities through a structured and proven method, process optimization and data analytics.
Cost Cutting
Our top-down approach analyzes cost management as well as processes and expands on with digital tools that maximize efficiency. For each primary process there are multiple tools/areas that allow for cost management improvements and lead to long term increase in profits.
Warehouse Design
We revise and propose the entire logistics concept in order to create personalized distribution center that includes an optimally dimensioned warehouse. We implement an AI based solution with ability to create, design and optimize shop floor planning, based on your business needs.
Benefits of Supply Chain Management delivered by ACTUM Digital
By choosing us you will reap many benefits. Here are just a few.
Máte otázku ohledně svého digitálního projektu?