How to Choose the Right B2B Ecommerce Platform: Manufacturer's Guide
B2B ecommerce platforms are software solutions helping organizations establish an online presence and streamline their business processes. With manufacturing companies – particularly those in Europe – facing numerous challenges, industry stakeholders must adapt to the market pressure by buying into innovative solutions. Ecommerce platforms specially designed for B2B companies are one such solution, and choosing the right one for your company is key to remaining competitive.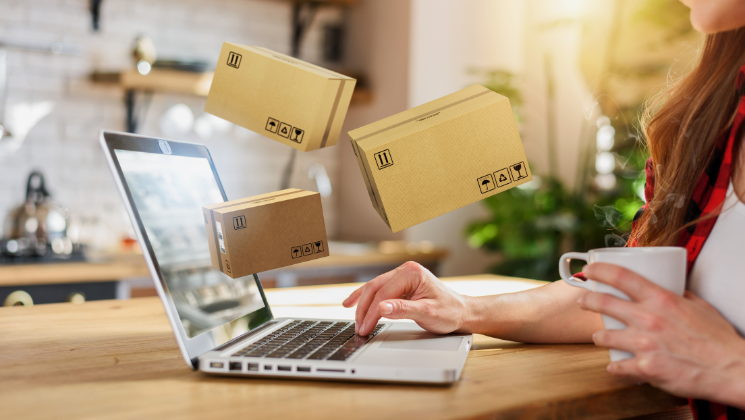 B2b buyer has changed, so as manufacturing operations
The manufacturing industry was heavily impacted by the global pandemic, causing major supply chain disruptions and uncertainty. As a result, manufacturers started to adapt by adopting leaner operations and increasing their digital commerce capabilities.
According to Statista research, B2B e-commerce GMV in Europe will grow steadily from 2022 to 2025, reaching over $1.8 trillion by 2025, as more millennials are involved in the B2B buying process. However, simply having a website is not enough to win over modern buyers.
Ecommerce for manufacturers: user journey, benefits
Traditionally, B2B businesses, particularly in manufacturing, have avoided online sales due to the complexities of their sales processes. Offline selling through brick-and-mortar stores or professional exhibitions, with online sales limited to only a small portion of the company's portfolio, has been the norm. Not anymore.
The COVID-19 pandemic has shifted the landscape and highlighted the importance of having a digital presence in the B2B space.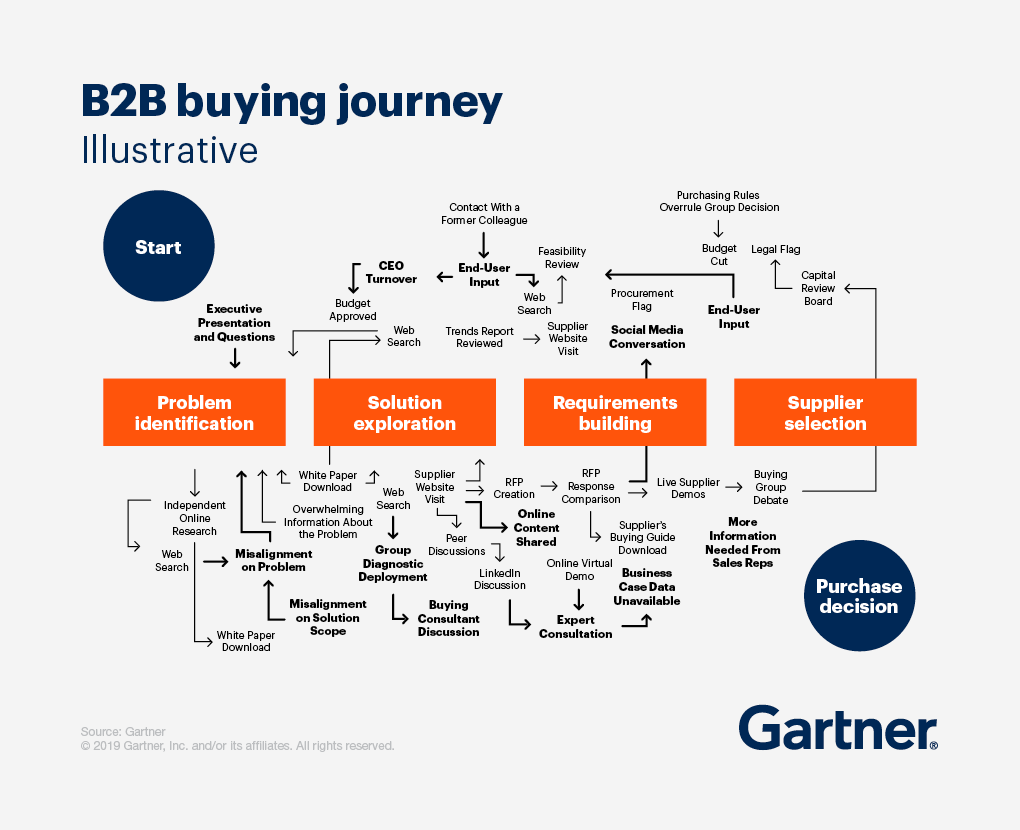 As you can see, the user journey in B2B sales is complex, however, an optimized e-commerce website can help buyers move through the journey more easily.
By decoding common customer journeys and creating an online experience around them, B2B businesses can bridge the gap between offline and online sales and ultimately streamline sales processes and generate more revenue.
Benefits of ecommerce platforms for manufacturers:
Here are the benefits manufacturers can leverage by having an ecommerce site:
Increased efficiency.
A B2B ecommerce platform automates tasks and processes such as order management, processing, and fulfillment, minimizing errors and managing workload spikes. It also helps manufacturing companies manage inventory efficiently, preventing unexpected disruptions to the supply chain.


Improved customer experience.
E-shops ensure customers can conveniently view detailed product information, complete payments, and track orders unhindered by location & working hours. With ecommerce platforms, manufacturing companies can deliver customized experiences through personalized pricing, promotions & product recommendations.


Improved data analytics.
B2B transactions generate enormous volumes of data. The right ecommerce platform supports the collection and processing of data on sales trends, customer behavior, product performance, and website analytics. It turns them into actionable insights through which businesses can make informed decisions for lean manufacturing.


Wider access to new markets.
By building a digital storefront and automating business processes, manufacturers can sell to other businesses interested in their products despite restrictions of time zones and distance. A standard B2B ecommerce platform will also support multiple languages and foreign currencies.

Reduced operating costs.
The automation capabilities of good platforms reduce the need for intervention. Consequently, there will be fewer errors and reduced expenses on labor. These services lower marketing costs by allowing businesses to tap into organic traffic through cost-effective digital marketing strategies. Also, these platforms can help businesses save costs that would have been spent on maintaining brick-and-mortar stores.
Key features B2B ecommerce platforms must offer manufacturers
It is important to know the features to look out for to decide on the best service provider to host your manufacturing business' e-shop. Here are seven critical features your B2B business needs to thrive:
Integration capabilities
To optimize your ecommerce website, choosing an online service provider offering a robust application programming interface (API) to enable integration with other systems is important. For example, integrating Product Information Management (PIM) software will improve the quality of product information on your website, while a Customer Relationship Management (CRM) system is necessary for delivering personalized services. Such strong integration capabilities improve efficiency and quicken business processes.
Security
From payment information to customer data, large volumes of sensitive data will be exchanged during B2B transactions. Therefore, the ecommerce platform must have the latest security features to prevent unauthorized access. Look for firewalls, SSL certificates, intrusion detection systems, and two-factor authentication to protect against fraud and cyber-attacks. It is also essential to be sure the platform has a level 1 Payment Card Industry (PCI) compliance certificate for the security of credit card transactions.
Onboarding and support services
Moving to a new ecommerce platform can be a challenging process. Search for platforms that offer onboarding and training services for your staff to improve end-user adoption. Also, look for technical support services to assist should issues arise while using the platform.
Customization options
To create a unique experience for your customers, businesses need ecommerce platforms that allow website customization so manufacturers can create a brand identity that sets them apart from competitors using the same platform. Customization is also important for scalability because it allows the company to add more features to support increasing operations as the business grows.
Mobile-friendliness
With mobile usage increasing globally every year, it is important to consider mobile responsiveness for your platform. According to Google and Boston Consulting Group, 70% of B2B queries were made through mobile phones in 2020, a figure that is expected to keep increasing.
Flexible payment options
B2B transactions are often complex because of high order volume, huge cost of purchases, and involvement of multiple stakeholders. The complexity of the buying process means traditional payment methods such as checks, purchase orders, and wire transfers are still popular options for B2B manufacturers. So, in addition to digital payment options, choose platforms that support offline payment methods to ensure buyers have the luxury of choice and convenience.
Restricted access
Restricting access to information is essential in B2B ecommerce, as it ensures distributors, customers, and employees only have access to the information they need. It improves security by preventing unauthorized access or use of sensitive data. Hence, restricted access is a crucial feature that manufacturers must consider.
What are the steps to choosing the right B2B ecommerce platform for your business?
The presence of several vendors offering their products on the market can complicate the process of deciding on the best platform. Here is a six-step strategic approach to improve your decision-making:
1. Establish the need for a B2B ecommerce platform
An important first step is to determine if your business is ready to take on the task of building its e-shop. It is an intensive task that requires significant investment and technical expertise. Therefore, brands with limited budgets and unavailability of technical staff may be unable to execute this project effectively. Also, manufacturers with a limited product catalog may not necessarily need a full-scale ecommerce platform. In any of the above cases, listing your business on B2B marketplace platforms may be a better alternative.
2.
Identify the key requirements of your business

To improve your platform selection process, start by considering the unique requirements of your business. The company's stakeholders must meet to decide on a budget, estimated time-to-market, and the possible need for external support to launch the B2B online shop.

Also, decide on what your online product portfolio will look like by considering the types of products to sell and how much of your catalog to list on the e-shop at the start. Consider the complexity of the products your business plans to put up for sale on the ecommerce platform. Products that are highly complex might require the use of complex product configuration software to simplify the representation and sales of your products on the ecommerce platform.
3.
Understand your target audience

The next step is to research the needs and preferences of your target audience, which will include distributors, wholesalers, retailers, or other manufacturers. Consider their preferred payment methods, device preferences, physical locations, and other vital points to help you design your strategy better.
4.
Choose the necessary features and functionality

The logical next step is to select the features and functionalities your company needs from the B2B platform. Factors to decide the features to pick include budget, characteristics of the target audience, volume of product information and customer data, and peculiarities of your supply chain. Additionally, the complexity and level of customization of your products are also worth studying. Lastly, review the number of stakeholders typically involved in your sales processes. By taking all these factors into consideration, your business will identify the features needed for the smooth and efficient running of the e-shop.
5.
Compare vendors

After diligently running through the above steps, perform a comparative analysis of the best ecommerce platform vendors for B2B. Ensure detailed comparison of pricing plans, security features, support and training, scalability, online reviews, and manufacturing industry use cases.

There are several B2B ecommerce platforms that can serve the needs of manufacturers. Some of the best options include BigCommerce, Adobe Commerce, SAP Commerce, and Shopify. BigCommerce in particular is a great choice for businesses in the manufacturing industry because the platform is optimized for manufacturers and suitable for companies of all sizes. For a more detailed comparison of the top B2B ecommerce vendors, take a look at our rich infographic analysis.

Tip: Choose an ecommerce solution that scales with your business, both in terms of features and license fees. This ensures you won't have to switch platforms as your online sales grow.
6.
Finalize the decision

The last step is to arrive at a decision. Gather relevant stakeholders and present all the necessary findings in detailed reports to pick the B2B ecommerce platform that is right for your organization. The selection process could be time-consuming and detail-oriented. Hence, consider opting for the services of a trusted implementation partner to smoothen this important selection, tailor the solution to your needs and avoid errors during the implementation.
The Road to B2B Ecommerce Success
The B2B ecommerce market is a rapidly evolving space becoming increasingly profitable for businesses. It promises increased efficiency, reduced operation costs, and improved access to new local and international markets, provided the platform provides key features and functionalities. Follow the steps above to make deciding on the right platform less tedious.
ACTUM Digital can significantly simplify your platform selection processes with our expert services. Contact us to help with vendor selection and implementation processes for optimal results and faster time-to-market. Meanwhile, be sure to read our highly informative white paper "The Road to B2B Ecommerce Success" for a detailed comparison of B2B ecommerce platforms and more insights into the exciting future of B2B ecommerce.
You may also like...
[18/05/2023] Why Does B2B eCommerce Need to Go Beyond Amazon
Digital commerce evolves B2B eCommerce, demanding Amazon-like experiences. But replicating Amazon isn't enough; B2B must go the extra mile.
Read the Insight
[16/05/2023] Ebook: 4 Steps to Perfect Online Product Marketing
Discover the crucial balance between cost-effective solutions & innovative technology for manufacturers. Explore the power of PIM and ecommerce to drive growth and generate substantial online revenue.
Download the Ebook