Lead Business Partner
ACTUM Digital empowers organizations to outperform the competition with their digital platforms.
We build websites, e-commerce solutions, back-end applications, and integrations; we provide consultancy and content services.

We are building on a set of core values that help us guide our everyday decisions:
Trust

Partnerships

Leadership
Our clients are all over the world, and our team is diverse and fun to join.
Our Lead Business Partner is a person which:
Understands business concepts of a customer
Helps customer (and team) to understand impact of chosen solution and leads active conversation on what further improvements could be done after current project is concluded to further increase the value for customer
Consults a customer on how to choose and implement correct technologies (can apply both best or simplest approach) to support business goals
Consults a customer in online/digital area and the economical sense of the implementation
Selects new members of the entrusted teams and provides necessary supervision on projects
Works with Sales, PM and DEV to ensure we deliver optimal solutions in outlined timeline/budget/quality
Consults Actum's delivery teams to estimate and build the solution
Has strong interpersonal and negotiation skills
Demonstrate balance between technology and business to be able to communicate solutions, ideas, suggestions to a variety of stakeholders effectively
Strong business acumen and ability to negotiate with business partners
Strong customer orientation and able to manage customer expectations
What is a successful Lead Business Partner like?
Nobody is perfect. Still, the perfect Lead Business Partner at ACTUM Digital would be
Resilient and driven to deliver. Showing emotional stability and acting decisively under stress and uncertainty. Able to lead the team in difficult times and keeping strategic focus even in chaotic situations.
True Leader. Showing integrity, empathy, consistency, and hope. A leader who creates a group of loyal followers. A leader who understands his or her team and individual team members as whole human beings. A person of uncompromised moral standards and consistent words and actions.
Strategic. Thinking beyond the needs of the next week. Leading the team towards a vision through a set of connected strategic steps.
Knowledgeable. Looking for answers when there is no one else in the team to help
Networked. A person who naturally establishes connections outside of the company and is ready to reach out for or provide external help whenever there is a need.
Pragmatically innovative. Combining curiosity, strategic thinking and business sense, the team lead tries and evaluates new approaches. He or she sensitively adopts only those that are contributing to the strategic vision. A good leader says "no" very frequently and for good reasons.
Expected experience:
The person we are looking for has ideally
Built and managed his or her own teams
Had hands-on experience from a medium or large-sized web-based project (websites, ecommerce)
Been working on discovering client's business goals and opportunities
Decomposed complex problems and analysed them
Good communication and presentation skills
Team spirit while cooperating with other team members
Been responsible for making decisions that make business sense
Strong drive-in self-improvement, learning and sharing knowledge with others
Precision, reliability, and consistency
Work experience in professional services or IT services industry preferred
It is a big advantage if you have:
Technological knowledge of the process of developing web-based solutions
Experience with Kentico Xperience and/or Kentico Kontent platforms

We stay humble and work hard towards our goal. We never give up and always remember that we are a team.


What we can offer you:
Agile development and new technologies


Promoting new ideas and individualism


A cool team full of colleagues always willing to give advice


Interesting projects for prestigious clients


Certifications of your choice within a tailored personal development plan


International environment with everyday use of English
Any questions? Get in touch with Kája!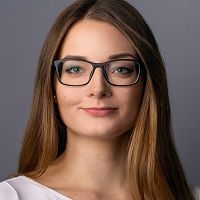 Karolína Málková
---