Web Content Editor
Ready to get busy with agency and campaigns partnerships at ACTUM Digital?
Don't miss the opportunity to join our dynamic team!
Category
IT Development and consultancy
Understanding the client and his needs in context is the foundation of our business. We are partners for our customers, helping them design such solution that enables them to achieve their business goals the quickest and most effective way.
What we are looking for
We are looking for a WEB CONTENT EDITOR to join the Delta Business Unit team, which provides website maintenance for international and Czech clients. The position is suitable for recent graduates or students with the opportunity to work full-time with a slight time limit due to graduation, who are already familiar with digital marketing communication, ideally with practical experience in editing and editing websites, and have intermediate knowledge of English.
The scope of work is web editing. After receiving the documents from the foreign client, you will be responsible for formatting the texts and photos into the appropriate templates. Then send it in for correction and edit changes. More precisely, make corrections according to the clients' response and send the final version at the end. Each of the projects has a clear schedule, responsibilities, and a defined workflow.
Prerequisites
high school / university education
a basic overview of the online world
basic knowledge of graphic editors
diligence and attention to detail
English (intermediate - oral and written)
Suitable prerequisites
brigade experience with editing, modifying, and content development in a digital environment a great advantage
basic knowledge of HTML and CSS, an advantage
What we offer
a place with great potential for development
working with the latest technologies
work for top foreign and Czech companies
opportunity to collaborate in a creative environment with digital marketing experts
background of a reputable, growing company, informal working environment
If you are interested in the position, please send us a CV ideally with a photo and a motivation letter, in which you briefly describe your direct experience with web editing, knowledge of specific content management systems, etc.
The career opportunity is here for you. Welcome to a culture where the pace is fast and change never stops. At ACTUM Digital, you get to create the career you want – and have fun doing it.
Any questions? Get in touch with Anička!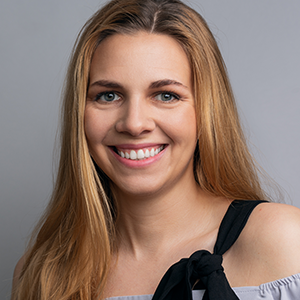 Anna Zemanová
---