UI/UX Applications Designer
Ready to get busy with agency and campaigns partnerships at ACTUM Digital?
Don't miss the opportunity to join our dynamic team!
Category
IT Development & Consultancy

Understanding the client and his needs in context is the foundation of our business. We are partners for our customers, helping them design such solution that enables them to achieve their business goals the quickest and most effective way.
As a UI/UX Applications Designer, you will work with clients of varying character and size with a wide array of needs - from internal business support processes, to designing custom applications to manage internal business workflows and agendas, to CRM and data-driven implementations.
A UI/UX Applications Designer at ACTUM Digital is a person that:
Is a designer of UIs a UI systems for business applications
Understands design patterns in modern apps - mobile, tablet and web-based and owns the design process
Is able to understand UI frameworks and ways of working in app development ecosystems and design with these frameworks in mind
Consults the customer on how to design the layout of the apps to properly to optimize for the given scenario, in order to support their business goals
Factors in the overall user experience usability
Is able to apply concrete solutions to fit the customer's needs and business goals
Consults the customer on the design process and implications
Takes part in delivery teams to jointly build the solution

If you find consulting and design of modern apps that improve company workers experience by simplifying their daily routine tasks interesting, and you see yourself in this role, then know that a UI/UX Applications Designer at ACTUM Digital has to have as basis:
Perfect communication skills in CZ and EN
Perfect presentation skills in CZ and EN
Independence in discovering how would users interact with the UI
Ability to prepare UI designs and UI systems (composability, repeatability, atomicity) for business apps (mobile and web)
Team spirit while cooperation with other team members
Ability to make decisions that make business sense
Very good overview of app UI design patterns and best practices
Strong drive in self-improvement, learning and sharing knowledge with others
Precision, reliability and consistency
Willingness to travel
It is an advantage if you have:
Basic to advanced knowledge of Figma
Experience with design systems for apps
Any knowledge of Microsoft Fluent UI framework
Microsoft Power Power Apps
Working history on a similar position
Experience with Accessibility
Any questions? Get in touch with Kája!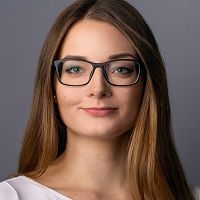 Karolína Málková
---