Quality & Security Specialist
Ready to get busy with agency and campaigns partnerships at ACTUM Digital?
Don't miss the opportunity to join our dynamic team!
As a
Quality & Security Specialist
, you will be a part of ACTUM IT Service HUB department. You will be responsible for security and quality maintenance and improvement at our company. You will manage all important ACTUM's certifications and audits. You will identify needs for trainings, related to quality and security assessment. You will help the company management to set up control systems and set a safe environment within ACTUM Digital. You must be organized, reliable and self-reliant. Basically, your goal is to contribute to keep our company on a professional level and up to highest standard in security and quality management and ensure a safe place and environment in ACTUM Digital inside and outside.
A Quality & Security Specialist, at ACTUM Digital is a person who
Drives various certifications (ISO, TISAX, etc.)
Is responsible for security, quality, and privacy assessment (internal audits, IT and physical security, access management setup, asset management setup, etc.)
Supports business divisions within client's requirements and needs regarding the quality and security assessment.
Is responsible for creating security and other policies, ensure their implementation, internal communication and provide or arrange trainings to all employees.
Assists in the formulation of internal controls and policies to comply with legislation and established best practices.
Cooperates and assists in security incidents - monitoring, assessment, reporting, lessons learned, mitigation.
Manages GDPR compliance and all the related matters.
Communicate directly to divisions and other departments, especially IT, Legal, HR, etc.
What we're looking for
Perfect written and verbal communication skills in CZ and EN
Experience in certifications (ISO, TISAX, etc.)
Solid knowledge of privacy and security needs and set up in business and companies
Experience in compliance or risk management
Well-organized with ability to prioritize
Very good communication and interpersonal skills, high proactivity
Team spirit while cooperating with other colleagues
Attention to detail and problem-solving ability
Drive to improve things, raise the level and quality of providing services
Independence, reliability, consistency and customer focus
What's in it for you
Working with professionals within the ACTUM Digital group
Company notebook and mobile phone
Promoting new ideas and individualism
Cool team full of colleagues always willing to give an advice
Our bar with refreshments / meals, free fruit, coffee, and tea
Free English, German and Czech lessons with native speakers
The career opportunity is here for you. Welcome to a culture where the pace is fast and change never stops. At ACTUM Digital, you get to create the career you want – and have fun doing it.
Any questions? Get in touch with Veronika!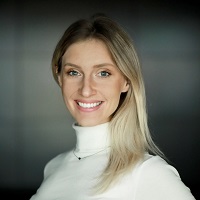 Veronika Krejčová
---