QA Specialist
Ready to get busy with agency and campaigns partnerships at ACTUM Digital?
Don't miss the opportunity to join our dynamic team!
Category
IT Development & Consultancy

Do you like testing web applications and you don't like routine? Are you interested in advanced web technologies, and do you want to learn about them? Do you know English, but don't have a chance to speak it, so you're forgetting? Are you interested in automation or want to improve your skills? And do you want to work in a midsized Czech company, which cooperates with big names in the Czech Republic and international environments? Then we're looking for you! There are open positions of different seniority in our QA department!
Job description
Checklist preparation
Manual testing of web solutions across mobile devices and browsers
Preparing test reports
Preparing user documentation
Communication with a team of developers and the customer
Defect management
Take responsibility for the quality of delivered SW on specific projects
What's in it for you
Opportunity to test different types of projects based on web and mobile platforms
Opportunity to learn various automation test types
Opportunity to gain experience with SCRUM methods
ISTQB certification and different types of development certifications
Your own initiative and opinion are welcomed and required, there is a space for the realization of your own ideas, processes, and tools
Permanent learning for keeping pace with the latest technologies
5 weeks of vacations; Actum Knowledge snacks; internal English teacher; company's cafeteria; teams activities; support for education
What do we expect
Experience with testing web or mobile applications
Intermediate English (not afraid to speak and willing to improve) because the team of developers and testers is international
Proactive approach to your work
Interest in improving your QA skills
Analytical thinking
Emphasis on detail
It is an advantage to know automation in WebDriver, but it's not mandatory
It is an advantage to have knowledge of JIRA and TFS
We are Apollo, a division of ACTUM Digital
Our daily bread is the development of websites, web applications, and everything surrounding it - gathering the requirements and helping our partners form the narrative flow, and defining the product, infrastructure, software architecture, and development. Our strategic competencies gravitate around Sitecore and development on top of Azure and AWS services.
We promote autonomy and self-organization rather than top-down control and management. We focus on achieving excellence, not only preventing mistakes. We actively encourage ourselves to acquire new knowledge – and to share the experience within our teams. It is our implicit commitment to ensure that we provide all our colleagues and friends with a sense of purpose. Every hour that people – clients or employees – invest in our company must be worthy and have a meaning. Honestly, that doesn't necessarily mean that the job is always super exciting, but we must know why we do it and why it is important.
Our Projects
Our clients are international and global enterprises that excel in utilities, financial services, art, and retail. We have worked with enterprises such as Innogy, Npower, METRO Cash & Carry, Dornbracht, Schott, and Explorius Education.
Our projects usually last longer than 12 months, but our relationship with clients lasts much longer, as we love to help them in the best way we can.
The project teams are involved in various tasks such as design, development, QA, and product management together with our client. Besides being dedicated to a single project, you will have the opportunity to work on internal projects - already existing, or new ones - you can also come up with your own if you'll feel it would make sense for you and us. We love to improve things.
In Apollo, we want to do things that make sense.
Any questions? Get in touch with Kája!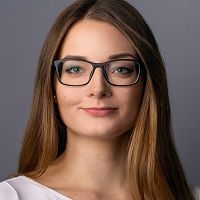 Karolína Málková
---