Lead Business Consultant
ACTUM Digital empowers organizations to outperform the competition with their digital platforms.
We build websites, e-commerce solutions, back-end applications, and integrations; we provide consultancy and content services.

We are building on a set of core values that help us guide our everyday decisions:
Trust

Partnerships
Leadership
Our clients are all over the world, and our team is diverse and fun to join.
Our Lead business Consultant is a person who:
Selects new members of the SA Team and provides necessary supervision on projects
Motivates members of the SA Team and supports the personal development of skills and experience
Understands business concepts of a customer
Consults a customer on how to choose and implement correct technologies (can apply both best or simplest approach) to support business goals
Consults a customer in online/digital area and the economical sense of the implementation
Helps customer (and team) to understand the impact of chosen solution and leads an active conversation on what further improvements could be done after the current project is concluded to further
increase the value for the customer
Works with Sales, PM, and DEW to ensure we deliver optimal solutions in outlined timeline/budget/quality
Is able to design technical architecture and understands the solution on a low level
Is self-organized and able to drive the technical part of the project
Consults Actum's delivery teams to jointly estimate and build the solution
Is able to analyze the current IT ecosystem to identify weakness and develop opportunities for improvements
Has strong interpersonal and negotiation skills
Demonstrate balance between technology and business to be able to communicate solutions, ideas, suggestions to a variety of stakeholders effectively
Strong business acumen and ability to negotiate with business partners
Strong customer orientation and ability to manage customer expectations
Management skills to manage one or more large, complex programs/ projects simultaneously
Expected experience:
The person we are looking for has ideally
Built and managed his or her own team
Had hands-on experience from a medium or large-sized web-based project (websites, eCommerce)
Been working on discovering the client's business goals and opportunities
Decomposed complex problems and analyzed them (ability to write user stories is a plus)
Prepared qualified solution designs (functionality, processes, infrastructure – including drawing essential diagrams)
Good communication and presentation skills
Team spirit while cooperating with other team members
Been responsible for making decisions that make business sense
Strong drive-in self-improvement, learning, and sharing knowledge with others
Precision, reliability, and consistency
Work experience in professional services or IT services industry preferred
It is a big advantage if you have:
Knowledge of the process of developing web-based solutions
Knowledge of Kentico Xperience and/or Kentico Kontent platforms
Knowledge of one or more of Solr, MongoDB, Microsoft SQL Server, IIS, .NET stack technologies
Experience with Microsoft Azure, Google Cloud Platform, or Amazon Web Services


What's in it for you:
A great creative and ambitious atmosphere of a world-class digital agency
Possibility to choose between modern relaxed offices in Holešovice and Home Office
We are growing fast, and you can grow with us
Transparent leadership of both the division and entire company
You can use the existing processes, but at the same time challenge them and improve them to make them work for you and the team
Have fun with the rest of the team and enjoy the ride
Outstanding performers are recognized and rewarded for their contribution
Agile development and new technologies
Promoting new ideas and individualism
A cool team full of colleagues always willing to give advice
Interesting projects for prestigious clients
Certifications of your choice within a tailored personal development plan
International environment with everyday use of English


We are Alpha, a division of ACTUM Digital

In Division Alpha, we build solutions based on KENTICO XPERIENCE and KENTICO KONTENT.
We are one of the leading partners in Europe and have the clear goal of becoming #1 in the world. Our team has achieved the highest levels of certifications in all Kentico products and has even won the global Site of the Year award.
We stay humble and work hard towards our goal. We never give up and always remember that we are a team.
Any questions? Get in touch with Kája!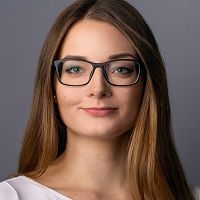 Karolína Málková
---