Lawyer in an IT company
Ready to get busy with agency and campaigns partnerships at ACTUM Digital?
Don't miss the opportunity to join our dynamic team!
We are currently looking for someone who will work independently and responsibly, to provide comprehensive legal services to Actum Digital, a Czech IT company with 25 years of success. In practice, this means not only the preparation of legal documents and contracts, but also the negotiation of contractual terms and direct participation in negotiations with clients, as well as internal legal advisory for the whole company.
At the beginning of your journey, we will entrust you with, for example, agreements on confidentiality, personal data protection, or contracts with suppliers; however, you will also come across other contracts in the field of IT law, such as license agreements, work contracts, outsourcing contracts, etc. Your clients will not only be your internal colleagues but, over time, they will also be the external suppliers and customers directly. There is a great opportunity here for influencing the company's business results.
The areas in which you will operate, improve, and grow professionally:
Legal advisory in the field of IT.
Comprehensive assessment and treatment of the impacts and risks associated with concluded contracts with various clients both in and outside of the Czech Republic.
Preparation of IT supplier service documents in areas such as eCommerce, Cloud, and SLA.
Preparation of contracts regarding SW development, implementation, licensing of IT solutions/systems.
GDPR regulations and NDA treatment.
Work environment and requirements
We are a successful company formed by confident professionals operating in a pleasantly informal environment. Initially, you will be assisted by a more experienced colleague in the legal department, who will explain everything that you need. Later, it is expected that you will become independent.
As Actum Digital provides its services to foreign markets, we need someone with excellent proficiency in English. Also, our German-speaking clients will certainly appreciate any knowledge of German law and the German language.
Given that we implement large and complex projects, previous work experience of at least 2 years, preferably in an IT company or in a law firm with focus on IT clients, is highly desired.
You'll need more for that
A lawyer needs to have an above-average ability to defend his opinion and, at the same time, explain the problem clearly and concisely to others. In addition, it is essential to establish realistic priorities, adapt them to the company's requirements, and be diligent in their independent implementation.
This is a full-time job.
What king of environment will you be moving in?
Flexible start and end of working hours
Five weeks of paid vacation
Option to choose between Lenovo and MacBook
International environment – everyday use of English
Own bar with refreshments at favorable prices
Relax zone
Multisport card
Discount for yacht holidays
Free coffee, tea, and fresh fruit every day.
You will find us located in a new building opposite the Nádraží Holešovice metro station where, among other things, a running track, a relaxation zone, and a company café await you.
Any questions? Get in touch with Sheida!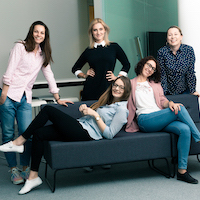 Sheida Sheikhha
---