IT Talent Sourcer
Ready to get busy with agency and campaigns partnerships at ACTUM Digital?
Don't miss the opportunity to join our dynamic team!
Category
IT Development & Consultancy

Great opportunity for juniors!
Who are we?
One of the largest independent digital agencies in Europe, ACTUM Digital is a family of more than 260 digital experts working in three European offices on hundreds of projects in over 15 languages for a vast range of global clients.
Who are you?
You are inquisitive and analytical.
You like finding needles in haystacks and you are attracted by the IT world.
Tell me more
You'll be helping with finding the right IT specialists.
These experts will be working for us and help us solving SW development related challenges.
This will involve a lot of communication, detective, and analytical work, and getting to know "your" people.
The nice thing here is that you'll be learning tons about the IT industry, the underlying trends, and technologies, and finally about yourself.
To the point aka responsibilities
Conducting market research, identifying sources of candidates
Pairing up with IT recruiters, helping them and learning from them
Using social and professional networks to search for these specialists and to approach them
Attending fairs, meet-ups, conferences when the situation enables it
What makes me a suitable candidate?
"Can do" attitude
Ownership (behaving as if it was your company)
Eagerness to learn
Knowing your way around social and professional networks
Ideally working experience in HR dept. or recruitment agency
Experience in IT industry is a big advantage
Proficiency in Czech and fluent English is essential
Any questions? Get in touch with Anička!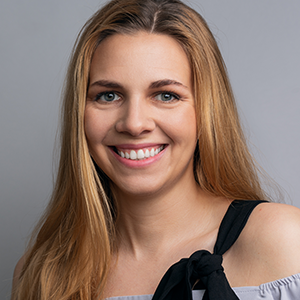 Anna Zemanová
---