Google Cloud Platform Data Engineer
Ready to get busy with agency and campaigns partnerships at ACTUM Digital?
Don't miss the opportunity to join our dynamic team!
Category
IT Development & Consultancy

As a GCP Data Engineer, you will be a part of Google focused division in Actum called Genesis. Your responsibility will be taking part in the pre-sale process as part of the technical consultancy with a specialization in data related topics. However, majority of your time spent in Actum will be revolving around topics like ETL, building resilient data pipelines, optimizing or building new data warehouse solutions on top of Google Cloud Platform.
A data engineer at ACTUM Digital is a person that:
Provides technical advisory during technical pre-sales and proactively suggests best possible use of technology for given use cases,

Builds on top of previous experience and lessons learnt on past projects in data processing,
Develops Extract, Transfer, Load jobs using services on Google Cloud Platform,
Builds resilient and high scalable data pipelines that help customers make sense of data at hand,
Transforms customer data in order to be later leveraged via not only Google Cloud data processing services,
Sets up cloud data warehousing and help migrate data to fit into Cloud environment.
What we're looking for:
Understanding of Big Data technologies and solutions (Spark, Hadoop, Hive, MapReduce) and multiple scripting and languages (YAML, Python).

Understanding of Google Cloud Platform (GCP) technologies in the big data and data warehousing space (BigQuery, Cloud Data Fusion, Dataproc, Dataflow, Data Catalog) is a big advantage,
Demonstrable track record of dealing well with data analytics, data warehousing, building ETL pipelines,
Excellent verbal and written communication skills with the ability to effectively advocate technical solutions to research scientists, engineering teams and business audiences.
Nice to have
No need to be expert in Google Cloud, we can teach you that.

Knowledge of Machine Learning technologies and frameworks like TensorFlow.
Experience in managing a delivery team.
What's in it for you
Getting professional certification on Google Cloud Platform.

Unlimited access to Google Partner knowledge hub.
Hands on experience on various projects from retail, finance in both B2C and B2B focus.
Be part of a stable yet rapidly growing group of companies - ACTUM Digital, yachting.com, WMC Grey.
On-site refreshments / meals, free fruit, coffee, and tea
Free English lessons with native English speaker
The career opportunity is here for you. Welcome to a culture where the pace is fast and change never stops. At ACTUM Digital, you get to create the career you want – and have fun doing it.
Any questions? Get in touch with Kája!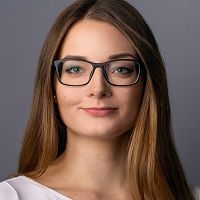 Karolína Málková
---