Full-Stack Tech Leader
Ready to get busy with agency and campaigns partnerships at ACTUM Digital?
Don't miss the opportunity to join our dynamic team!
Category
IT Development & Consultancy

Responsibilities:
crucial technical role in our enterprise CMS / e-commerce projects
decision maker for questions on architecture; ability to explain and justify such decisions in front of the team and potentially in front of the customer
technical guidance for the internal DEV team
setting up build pipeline, overseeing repository health, defining internal best practices
influence on the tool stack used by our team
at least 50% of time hands-on coding on our projects that consist of one or more of these (mostly headless) systems: CMS, product catalogue, e-commerce solution, potentially also supported by integration layer (ESB)
support to sales team for new opportunities (max. 10%)
What stack do we use?
Our stack keeps evolving. At the moment, we mainly rely the on the following:
REACT
TypeScript
Jamstack
Gatsby.js, Node.js
Netlify
GraphQL, REST API
Bundlers/task runners (Grunt, Gulp, Webpack, NPM scripts)
Git, GitHub Actions
Visual Studio Code
JIRA
Your background:
5+ years of SW dev/architecture hands-on experience
Experience with majority of technologies mentioned above
Passion about technology and architecture
Knowledge of CMS / e-commerce business is an advantage
Selling points:
We have opened this position because we are starting a major e-commerce project for a Swiss client. So the candidate will be fast involved in an interesting project.
Impact. The person is able to make or influence decisions related to architecture of the particular project and to overall developer experience in our team.
This is not a people management role. It is suitable for people who want to focus on technology.
What is a successful Full-Stack leader about?
Nobody is perfect. Still, the perfect Full-Stack tech leader for BU Alpha would be:
Resilient and driven to deliver. Showing emotional stability and acting decisively under stress and uncertainty. Able to lead the team in difficult times and keeping strategic focus even in chaotic situations.
Strategic. Thinking beyond the needs of the next week. Leading the team towards a vision through a set of connected strategic steps.
Knowledgeable. Knows the everyday job of a front-end developer and, in most cases, is able to jump in and start coding.
Networked. A person who naturally establishes connections outside of the company and is ready to reach out for or provide external help whenever there is a need.
Pragmatically innovative. Combining curiosity, strategic thinking and business sense, the team lead tries and evaluates new approaches. He or she sensitively adopts only those that are contributing to the strategic vision. A good leader says "no" very frequently and for good reasons.
What we offer:
Collaborate with the best
Freedom and responsibility
Work that is never done
Working with professionals within the group of companies - ACTUM Digital, yachting.com, WMC Grey
Promoting new ideas and individualism•Cool team full of colleagues always willing to give advice
Company notebook (Lenovo or Macbook)
Multisport card
Our bar with refreshments / meals, free fruit, coffee, and tea
Free English lessons with native English speaker•International environment with everyday use of English
The career opportunity is here for you. Welcome to a culture where the pace is fast and change never stops. At ACTUM Digital, you get to create the career you want – and have fun doing it.
Any questions? Get in touch with Kája!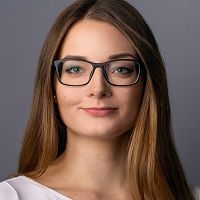 Karolína Málková
---