Full-Stack Developer
Ready to get busy with agency and campaigns partnerships at ACTUM Digital?
Don't miss the opportunity to join our dynamic team!
Category
IT Development & Consultancy
The Role
What is the Full-Stack function about?
It's about the ability to develop a whole web application or mobile hybrid application without the help of any other role within a team of 2 to 5 full-stack developers. It means to have the ability to create a code repository, create Devstack, set CI/CD, setup infrastructure cloud provider, develop backend functionalities, develop frontend functionalities and write unit tests.
We leverage cloud services (SaaS) and Serverless (functions) as much as possible.
Tools & Technologies
What stacks do we use?
Our stacks keeps improving. At the moment, the Business Unit Alpha typically relies on the following:
CSS (including preprocessors)
HTML
JavaScript/TypeScript
Gatsby framework, Next.js
Bundlers/task runners (Grunt, Gulp, Webpack, NPM scripts)
Netlify, Microsoft Azure
Serverless
REST API, Graph QL
Git (TFS, GitHub)
JIRA
Algolia, SOLR, Elasticsearch
Our projects leverage Kentico technologies (Kentico Xperience MVC, Kontent by Kentico).
Whom do we seek?
An experienced Full-Stack Developer with good knowledge of HTML, CSS, TypeScript and JavaScript (Next.js, Node.js or Netlify).
What's in it for you:
Work with the latest tools and technologies
Promoting new ideas and individualism
Career growth in an international environment
Flexible working hours
5 weeks of paid vacation
International environment – everyday use of English
Our great English Lector - native speaker Zach
Company bar with refreshments and fresh juices
Relax zones
Multisport card
Discount on a yacht vacation
Very good coffee, tea, and fresh fruit every day FOR FREE
About Business Unit Alpha
In Business Unit Alpha, we build solutions based on Kentico Xperience and Kontent by Kentico.
We are one of the leading partners in Europe and have the clear goal of becoming #1 in the world. Our team has achieved the highest levels of certifications in all Kentico products and has even won the global Site of the Year award.
We stay humble and work hard towards our goal. We never give up and always remember that we are a team.
Our Company
Why ACTUM Digital?
We have been successfully operating on the market for over 20 years
We are a team of friendly enthusiasts and we like to try new technologies
We do not like unnecessary processes that slow us down and hinder our development
Any questions? Get in touch with Kája!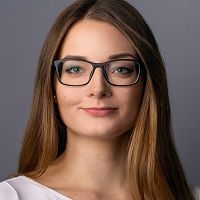 Karolína Málková
---