Front-End Team Lead
ACTUM Digital empowers organizations to outperform the competition with their digital platforms.
ACTUM Digital empowers clients to achieve more with their digital platforms.
We build websites, e-commerce solutions, back-end applications, and integrations; we provide consultancy and content services.

We are building on a set of core values that help us guide our everyday decisions:
Trust
Partnerships
Leadership
Our clients are all over the world, and our team is diverse and fun to join.
What stack do we use?
Our stack keeps improving. At the moment, the BU Alpha typically relies on the following:
CSS (including preprocessors: SCSS, Less; Styled Components; BEM; Bootstrap; responsive design; mobile-first)
HTML (and templating languages: Nunjucks, Handlebars)
JS (es5, es6, jQuery, React [Redux, Hooks], TypeScript, Flow, Jest)
Bundlers/task runners (Grunt, Gulp, Webpack, NPM scripts)
REST API
Git (TFS)
JIRA
Our projects leverage Kentico technologies (Kentico Xperience MVC, Kentico Kontent)

What is the Front-End Team Lead role about?
The FE Team Lead is responsible for providing sustainably outstanding contributions of Front-End Team Members to the projects of BU Alpha.
Selection and leadership of the FE Team Members,
Performance management of the FE Team including own contribution,
Testing, selection, and introduction of new processes and tools,
Alignment of the FE function with other business units at ACTUM Digital,
Active building of a network of contacts, partnerships, alliances, and general contribution to global visibility of ACTUM Digital in the FE world

What is a successful FE Team Lead like?
Nobody is perfect. Still, the perfect FE Team Lead for BU Alpha would be:
Resilient and driven to deliver. Showing emotional stability and acting decisively under stress and uncertainty. Able to lead the team in difficult times and keeping strategic focus even in chaotic situations.
True Leader. Showing integrity, empathy, consistency, and hope. A leader who creates a group of loyal followers. A leader who understands his or her team and individual team members as whole human beings. A person of uncompromised moral standards and consistent words and actions.
Strategic. Thinking beyond the needs of the next week. Leading the team towards a vision through a set of connected strategic steps.
Knowledgeable. Knows the everyday job of a front-end developer and, in most cases, is able to jump in and start coding.
Networked. A person who naturally establishes connections outside of the company and is ready to reach out for or provide external help whenever there is a need.
Pragmatically innovative. Combining curiosity, strategic thinking, and business sense, the team lead tries and evaluates new approaches. He or she sensitively adopts only those that are contributing to the strategic vision. A good leader says "no" very frequently and for good reasons.
What we can offer you:
Agile development and new technologies


Promoting new ideas and individualism


Cool team full of colleagues always willing to give advice


Interesting projects for prestigious clients


Certifications of your choice within a tailored personal development plan


International environment with everyday use of English



We are Alpha, a division of ACTUM Digital

In BU Alpha, we build solutions based on KENTICO XPERIENCE and KENTICO KONTENT.
We are one of the leading partners in Europe and have the clear goal of becoming #1 in the world. Our team has achieved the highest levels of certifications in all Kentico products and has even won the global Site of the Year award.
We stay humble and work hard towards our goal. We never give up and always remember that we are a team.
Any questions? Get in touch with Kája!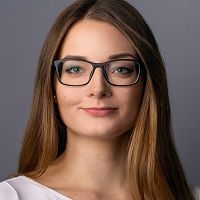 Karolína Málková
---