ETL / Data Service Developer
Play a key role in the ecommerce platform of one of Europe's largest retailers
What is waiting for you
Together with our long-term partner Conrad Electronic we have created the ACDC (ACTUM Conrad Development Campus) project. This is not just another development hub, but a project where developers can learn and progress to new levels, becoming part of the prestigious Conrad family of developers. As one of the leading B2B supplier portals in Europe, and as one of the key strategic partners of Google, Conrad is not only a great company to work for, but a real innovator of new technologies.
The position
As a horizontal service team in a mostly vertical oriented environment, we are working with Kanban. This means we offer support to every team regarding data (provisioning, migration, …). We are always on it to improve our services and processes, and we are open to new technologies and tools which can help us do this. Following the principle "run what you build" we are fully responsible for our services. We provide data for the complete Conrad shopping platform, related systems and external customers or partners. We control our environment, infrastructure, processes, and architecture. With more and more data coming our way, we "process data for breakfast" making sure the teams can rely on us.
The team
A team of eight highly motivated developers with experience grades from senior, mid-level to junior. We are collaborating closely, supporting each other, and sharing knowledge. From a personal perspective we are very diverse, but we all share the same data mindset. We also work together with the other teams, especially Master Data Management, Price and Availability, Product, Search and Data Science.
What skills and knowledge should you bring
Gain fast understanding of how the data service works in our E-commerce environment. Safe and proven handling of common tools, databases, technologies, etc. Good overview of state-of-the-art technologies and hot news regarding data processing, to improve and push our processes and architecture forward. A developer who can also be a guide and can support others. Support the team to improve our services and to prepare ourselves for future challenges.
Mid Level (CZK 80 000 – 110 000)
MUST HAVE:
Java
Microservice experience
API
RDBMS Database knowhow (export, load, etc...)
Data batch processing used in complex ETL processes (mass data processing)
NICE TO HAVE:
GCP know how/Cloud computing
Bash
Jenkins
Data streaming (e.g., Kafka)
NoSQL Databases (e.g., MongoDB)
ETL Tools (Talend, Pentaho Kettl, Oracle OWB etc…)
NodeJS
Python
Spring Boot, Vaadin
Senior Level (CZK 110 000 – 140 000)
MUST HAVE:
Java
Data streaming (e.g., Kafka)
NoSQL Databases (e.g., MongoDB)
ETL Tools (Talend, pentaho, etc…)
Hadoop
Bigdata
Bigquery
Kafka Software architecture
Great soft skills (communication, mentoring, development processes, risk management, agile knowhow)
GCP knowhow/Cloud computing
Bash
Search algorithm knowledge/Apache Lucene
MongoDB
Spring Boot, Vaadin
NICE TO HAVE:
Which competences are an advantage
Although we do offer EN courses to help you improve, we do require a very decent working proficiency. A big advantage you can bring to the table is related experience from E-commerce and platform development, especially in the B2B sector.
What can we offer
Pay is always an important factor, but the perspective and personal development has been a main driver for people to not only join the project but stay with us. Further you will of course enjoy all the benefits of our great offices here in the Visionary building in Prague 7:
As much free coffee and tea as you can physically drink
Fresh fruit each day
Breakfast, Lunch, and Snack menu at the legendary ACTUM cafe
Super-modern offices with air filtration and climate control
Rooftop terrace and balconies
VERY frequent grilling and teambuilding sessions
Free for all Knowledge Snack sessions
Cycling storage and shower facilities
Free use of sports playground outside aka "the cage"
Multisports card
English lessons
Any questions? Get in touch with Martin!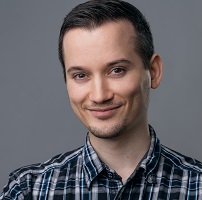 Martin Srpoň
---