Division Director
ACTUM Digital empowers organizations to outperform the competition with their digital platforms.
We build websites, e-commerce solutions, back-end applications, and integrations; we provide consultancy and content services.

We are building on a set of core values that help us guide our everyday decisions:
Trust

Partnerships

Leadership
Our clients are all over the world, and our team is diverse and fun to join.
Characteristics of the role
At the turn of 2019/2020, ACTUM Digital underwent a fundamental change in the organizational structure from a traditional functional organization to a divisional structure.

The divisions do business and make decisions very freely and independently. Open and transparent communication and involvement of all team members in the management of the organization are expected. Anyone in the division has the right to access all financial indicators, the division manages its own budget, and is responsible for its results.
Director is responsible for successful managing and develop a vision which is based on the client using specific technology and deliver the required profit and generating long-term growth with satisfied clients and people


Division Director - CEO approval: business plan, business strategy, investment, HR (hire/fire/rise), Legal, Finance


Responsibility for management P/L


Division-wide approval: hire/fire, profit sharing, etc.



What is a successful Division Director like?
Nobody is perfect. Still, the perfect Division Director at ACTUM Digital would be
Retains a high level of Energy /activity for long periods when required, hardworking and good stamina


Entrepreneurship is a key of success – delivery director deeply drives to identify market opportunities, for existing and new products/ services Takes action and is not afraid of risks


Knowledgeable. The Delivery Director knows the stuff we do. Web design, web development, implementation of back-end services, integrations, cloud infrastructure.


A good communicator. Based on perfect written and spoken English and building on persuasion, transparency, and honesty, the DD can cover very complex topics, deliver messages, and achieve goals in communication.


Fanatically driven to deliver. Showing emotional stability and acting decisively under stress and uncertainty. Able to lead the team in difficult times.


Adaptable. Adaptable to new ways of working, new tools requested by the staff and clients, to various situations, and a variety of stakeholders. Open to new ideas and new ways of working. Welcoming the opportunity to learn something new.


Team player. The Delivery Director goes beyond purely achieving goals with a team. He/she genuinely cares for the team and makes sure the individual team members are perceived as whole human beings and can grow in their roles. Also, the Delivery Director continuously improves our ability of teamwork.

We stay humble and work hard towards our goal. We never give up and always remember that we are a team.


What we can offer you:
Agile development and new technologies


Promoting new ideas and individualism


A cool team full of colleagues always willing to give advice


Interesting projects for prestigious clients


Certifications of your choice within a tailored personal development plan


International environment with everyday use of English
Any questions? Get in touch with Kája!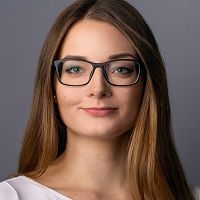 Karolína Málková
---