Delivery Coach
ACTUM Digital empowers organizations to outperform the competition with their digital platforms.
We are Apollo, a division of ACTUM Digital

Our daily bread is the development of websites, web applications, and everything surrounding it - gathering the requirements and helping our partners form the narrative flow and define the product, infrastructure, software architecture, and development. Our strategic competences gravitate around Sitecore and development on top of Azure and AWS services.

We promote autonomy and self-organization rather than top-down control and management. We focus on achieving excellence, not only preventing mistakes. We actively encourage ourselves to acquire new knowledge – and to share the experience within our teams. It is our implicit commitment to ensure we provide all our colleagues and friends a sense of purpose. Every hour that people – clients or employees – invest in our company must be worthy and have a meaning. Honestly, that doesn't necessarily mean that the job is always super exciting but we must know why we do it and why it is important.


Our Projects

Our clients are international and global enterprises that excel in utilities, financial services, art, and retail.

Our projects usually last longer than 12 months, but our relationship with clients lasts much longer, as we love to help them in the best way we can.

The project teams are involved in various tasks such as design, development, QA, and product management together with our client. Besides being dedicated to a single project, you will have the opportunity to work on internal projects - already existing, or new - you can also come up with your own if you'll feel it would make sense for you and us. We love to improve things.

In Apollo, we want to do things that make sense.
What's in it for you:
Lenovo or MacBook - your choice
Modern office building - you can use a running track on the roof, an outdoor gym and sports court, terraces with a view on Prague, or an auditorium
Movie nights, holiday celebrations, and other team events
Free fruits, coffee, and tea
Free English lessons with a native speaker
Work with colleagues from around the world
Any questions? Get in touch with Kája!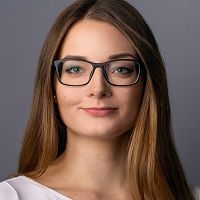 Karolína Málková
---