CX Designer
Ready to get busy with agency and campaigns partnerships at ACTUM Digital?
Don't miss the opportunity to join our dynamic team!
Category
IT Development & Consultancy

We are ACTUM Digital, one of the largest independent digital agencies in Europe. ACTUM Digital is a family of more than 260 digital experts working in three European offices on many projects in over 15 languages for a vast range of global clients. We are hiring a young, talented CX Designer to join our CX team. If you're excited to be part of our great team, ACTUM Digital is a great place to grow your career.
Our vision of the CX Designer role for the future:
We aim to see this role grow in time into more business complex tasks and frameworks such as customer journey automation with the help of different technologies and the application of System and Service Design Thinking.
A CX Designer at ACTUM Digital is a person that:
Conducts UX research (user and usability testing, user research, expert interviews) and creates reports
Applies Design Thinking
Helps prepare CX and UX workshops
Creates heuristic evaluation reports
Builds customer journeys and personas based on researched data
Generates ideas and create rapid prototypes based on identified customer needs
Uses field studies and findings to establish the best overall design elements to include in CX design experiences
Creates surveys for quantitative research to gather feedback on customer's ease of use and satisfaction interfacing with company websites and products
What we're looking for:
1-3 years of demonstrated experience in creating and implementing ideally CX design
Basic knowledge of interview techniques
Hands on experience with experience mapping
Ability to work effectively in a collaborative environment
Basic experience with CX and UX workshops preparation and facilitation
Passion for further education in CX design, research and strategy
Professional written and interpersonal skills when communicating with customers and clients
Ability to prioritize and manage several projects efficiently Account for challenges using problem-solution mapping
What's in it for you:
Working with professionals within the group of companies - ACTUM Digital, yachting.com, WMC Grey
Promoting new ideas and individualism
Cool team full of colleagues always willing to give advice
Our bar with refreshments / meals, free fruit, coffee, and tea
Free English lessons with native English speaker
International environment with everyday use of English
The career opportunity is here for you. Welcome to a culture where the pace is fast and change never stops. At ACTUM Digital, you get to create the career you want – and have fun doing it.
Any questions? Get in touch with Kája!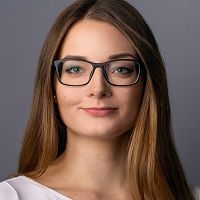 Karolína Málková
---