Content Marketer
Ready to get busy with agency and campaigns partnerships at ACTUM Digital?
Don't miss the opportunity to join our dynamic team!
Do you have a strong desire to fulfill your creative potential as a Content Marketer for a Digital tech agency, but you did not get the right opportunity yet? Are you confident enough that you can get the right message in front of the right audience? Do you have a strong drive to build a marketing content machine from a scratch with can-do attitude? Do you love digital technologies? We might be looking for you!
Our Corporate Marketing Team is searching for a team member who will make sure that ACTUM Digital produces marketing content including case studies, blog posts, podcasts, white papers, and LinkedIn posts with outstanding performance and at scale.
The role of Content Marketer is to build and cultivate, with the support of the Marketing Communication Director, the marketing content creation capability at ACTUM Digital and thereby support marketing and sales activities of Actum's respective business units.
Experimenting
with form and content, market
testing
and
scaling
through outsourcing will be your daily bread.
The Content Marketer at ACTUM Digital is a person that:
Produce high quality marketing content and scale it up by collaborating with external design and writing experts
Manage stakeholders, content production process, enforce deadlines and quality, control costs
Establish working knowledge at Actum on marketing content available for reuse internally as well as from our partner network
Analyze content performance, collect market insights, and generate ideas to increase client engagement
Develop a network of partners for content outsourcing. Establish a process of collaboration and monitoring of quality
Support the stack of technology tools for content operations (content hub, translation tools, performance tools, SEO, authoring tools)
What we're looking for:
1 year experience at a position actively working with content (e.g. as an editor); B2B marketing a strong advantage
Fluent English and excellent written English at a level of native speaker
Storytelling skills
Strong motivation to make sure that Actum has excellent performance-driven content; to do it "right", use latest insights, experiment with tools
Drive to fill gaps
Easy to work with; ready to support divisions
Nice to have
German language is a big nice to have
Basic skills to create visual content – photos, videos, infographics
Experience with marketing technology
What's in it for you:
Opportunity to design and build a new system of marketing content production and use
Promoting new ideas and individualism
Language courses
Company events
Multisport card
Our bar with refreshments / meals, free fruit, coffee, and tea
The career opportunity is here for you. Welcome to a culture where the pace is fast and change never stops. At ACTUM Digital, you get to create the career you want – and have fun doing it.
Any questions? Get in touch with Anička!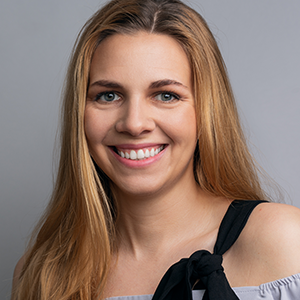 Anna Zemanová
---