Business Application Consultant
ACTUM Digital empowers organizations to outperform the competition with their digital platforms.
Understanding the client and his needs in context is the foundation of our business. We are partners for our customers, helping them design such solution that enables them to achieve their business goals the quickest and most effective way.
As a Business Application Consultant, you will work with clients of varying character and size with a wide array of needs - from internal business support processes to building custom applications to manage internal business workflows and agendas, to CRM and data-driven implementations.
A Business Application Consultant at ACTUM Digital is a person that:
Understands the business concepts of the customer


Consults the customer on how to choose and implement correct technologies in the


Microsoft Power Platform, Dynamics 365, and Office 365 scope, in order to support their business goals


Consults the customer on the economical sense of the implementation


Understands technology and architecture design


Is able to apply concrete solutions to fit the customer's needs and business goals


Consults the customer on the solution formation and implementation


Takes part in delivery teams to jointly build the solution



If you find client consulting and design and implementation of rapid-development based solutions to be of your interest, and you see yourself in this role, then know that:

A Business Application Consultant at ACTUM Digital has to have as a basis:
Perfect communication skills in CZ and EN


Perfect presentation skills in CZ and EN


Independence in discovering the client's business goals


Ability to decompose complex problems and to analyze them (requirements/user stories, use cases)


Ability to prepare qualified solution designs (functionality, processes, platform)


Very good overview of technologies and trends in the world of Microsoft Power Platform, Dynamics 365, Office 365, and Azure, as well as general trends in business automation, e-commerce, and digital


Strong drive in self-improvement, learning, and sharing knowledge with others


Precision, reliability, and consistency


Basic to advanced knowledge of TypeScript and/or C#


Willingness to travel
What we can offer you:
Agile development and new technologies


Promoting new ideas and individualism


A cool team full of colleagues always willing to give advice


Interesting projects for prestigious clients


Certifications of your choice within a tailored personal development plan


International environment with everyday use of English

Any questions? Get in touch with Kája!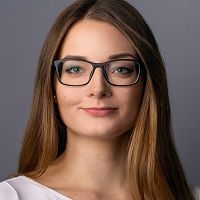 Karolína Málková
---