Big Data Analyst
Play a key role in the ecommerce platform of one of Europe's largest retailers
What is waiting for you
Together with our long-term partner Conrad Electronic we have created the ACDC (ACTUM Conrad Development Campus) project. This is not just another development hub, but a project where developers can learn and progress to new levels, becoming part of the prestigious Conrad family of developers. As one of the leading B2B supplier portals in Europe, and as one of the key strategic partners of Google, Conrad is not only a great company to work for, but a real innovator of new technologies.
The position
You will be first to discover new things or useful information in the data. Get satisfaction from feeling like a pioneer in improving company processes, combine data from different data sources, look at unexplored data, and set up some structure where the information is stored to make data easy to access. Naturally, web tracking of data in the web shop and analysis of that data will be part of the job, even using advanced SQL coding to get the desired visual results. You will then set up dashboards or try to answer question from internal customers like marketing (How is my newsletter performing?).
The team
The team of BigData analysts consists of 4 specialists in this field. The people have very different backgrounds: Mathematicians, computer scientists and physicists. The great strength of the team is the cross-functional cooperation with various other areas. Therefore, the day-to-day work is always exciting, because Controlling, Customer Care, E-Commerce, or Marketing, for example, not only produce a lot of data, but also want to use it and need our support for this.What skills and knowledge should you bringYou like working with a large amount with data. You are experienced with SQL and Python. You like helping others and ask for help if you need it. We are not just a group, but we are a real team. We therefore are looking for a team player.
What skills and knowledge should you posses
SQL
BigQuery
Big Data
Mapping business processes to data
E-commerce & IT experience
PostgreSQL
Airflow
Python (used for data predictions)
Looker
GCP
Logical thinking
Which competences are an advantage
Knowledge in Data Science will be of an advantage. Experience with Google Cloud tools. Basic understanding of business administration. Additional training in data analysis and visualization (e.g., Looker)
What can we offer
Pay is always an important factor, but the perspective and personal development has been a main driver for people to not only join the project but stay with us. Further you will of course enjoy all the benefits of our great offices here in the Visionary building in Prague 7:
As much free coffee and tea as you can physically drink
Fresh fruit each day
Breakfast, Lunch, and Snack menu at the legendary ACTUM cafe
Super-modern offices with air filtration and climate control
Rooftop terrace and balconies
VERY frequent grilling and teambuilding sessions
Free for all Knowledge Snack sessions
Cycling storage and shower facilities
Free use of sports playground outside aka "the cage"
Multisports card
English lessons
Any questions? Get in touch with Martin!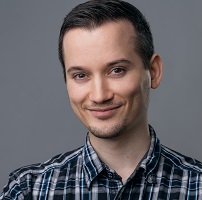 Martin Srpoň
---