Agile Project Manager
ACTUM Digital empowers organizations to outperform the competition with their digital platforms.
You will work with delivery teams on one or multiple projects, to allow for smooth and rapid development of business applications. You will be responsible for respecting or adjusting project boundaries and ensuring maximum value delivered to the client.
An Agile Project Manager at ACTUM Digital is a person that:
Actively steers and guards the project, to retain project ambitions, constraints and commitments
Reaches out to team and client representatives to clarify scope discrepancies
Ensures proper load on all parties in the project
Supports pre-sales project designs and definitions
Ensures transparency for all parties in the project
Ensures proper maintenance of delivery process (via DoR and DoD and other methods)
Ensures proper distinction between bugs and feature development with the team and client representatives
Represents the project at Steering Committees
Removes barriers for the team to deliver
Values agility of delivery over strict formality
Implements SCRUM, Kanban or other adequate methods of agile delivery
Is a problem solver
If you find managing projects based on rapid-development solutions to be of your interest, and you see yourself in this role, then know that an Agile Project Manager at ACTUM Digital has to have as basis:
Excellent track record in managing extensive software projects
Excellent knowledge of agile and traditional project methodologies (SCRUM, Kanban, Lean…)
Excellent argumentation skills
Perfect communication skills in CZ and EN
Perfect presentation skills in CZ and EN
Very good knowledge of Atlassian software (Jira/Confluence), its workflow implementation and setup
Precision, reliability and consistency
Team spirit while cooperation with other team members
Good overview of modern trends in business, technologies and project delivery
Willingness to travel
What we can offer you:
Agile development and new technologies


Promoting new ideas and individualism


A cool team full of colleagues always willing to give advice


Interesting projects for prestigious clients


Certifications of your choice within a tailored personal development plan


International environment with everyday use of English

Any questions? Get in touch with Kája!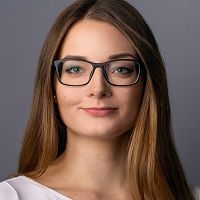 Karolína Málková
---